12VPN Review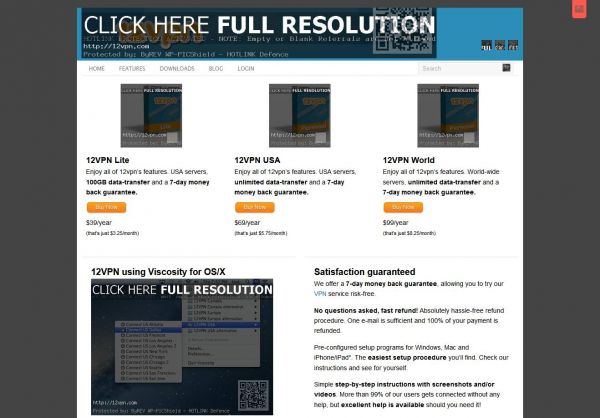 | | |
| --- | --- |
| Clients | Windows, Mac OS, Linux, iOS, Android, Blackberry, Symbian |
| Company Location | Hong Kong |
| Countries | 13 Countries |
| Filesharing | not allowed |
| Logfiles | No Logfiles! |
| Money Back | 7 Days Money Back Guarantee |
| Payment Options | Paypal, Credit Card, Debit Card, Plimus, Bluesnap |
| Protocols | OpenVPN, PPTP, L2TP, L2TP, IPSec, IPSec, IKEv2 |
| Traffic-Limit | No Limit |
| Price | from $ 8.25 |
| Best Use | Remote Access Unblocking Video Streaming Unblocking Websites |
| Encryption | 128-/ 256-Bit |
About 12-VPN
Based in Hong Kong, 12VPN is a Virtual Private Network service provided by Anuson Limited, which has been in operation since 2007. Over the last few years, 12VPN has emerged as one of the most popular and successful VPN providers in the Asian market and now has customers all around the world.
Offering privacy and security when browsing the internet, users can feel an increased sense of protection against attempts to hack, monitor or track their internet connection. Moreover, customers gain freedom to access content which is blocked by region, ensuring users have fewer restrictions placed upon their online experience.
How it Works
After completing a relatively simple signup process, users gain access to the client's installer, which places the 12VPN application onto the desired PC or mobile device. From there, the customer's IP address will be hidden and replaced with the IP address of the selected 12VPN sever.

Unlike some VPN providers, which have the majority of their servers in one region, 12VPN has servers all across the world, including the United States, the United Kingdom, Germany, Japan, Singapore and Hong Kong. This is a significant plus point for the service over some rivals and ensures easy access to geo-blocked content.
Protocols supported by the service include PPTP, OpenVPN, IKEv2, L2TP plain and L2TP/IPSec.
12VPN can be operated on a PC using Windows or Linux, or on a Mac. Additionally, one of the major plus points of the service is its availability on a wide range of mobile phone and tablet platforms, with Android, iOS and Blackberry devices all supported.
The locations of 12VPN servers: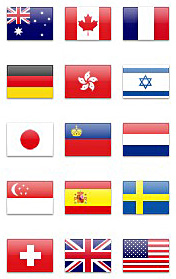 Australia, Germany, France, Great Britain, Hong Kong, Israel, Japan, Canada, Netherlands, Sweden, Switzerland, Singapore, USA
Pricing
In comparison to other similar services, 12VPN is reasonably priced, with multiple pricing plans available for users. The basic plan costs a little over $4 per month, while a mobile pricing plan is available for just $2.49 per month. However, one downside is that both plans require users to commit for a full year, which may be off-putting.
For users with more serious demands from their VPN service, a more expensive pricing plan is available, called 'unlimited'. Available for $8.25 a month, it offers vastly superior download speeds of up to 1000 Mbps and unlike the cheaper options, it is available as a 3 or 6 month commitment.
Despite the long commitment necessary for the most basic product, 12VPN currently offers customers a 14 day money back guarantee at the beginning, for those not entirely satisfied with the service. This can, for all intents and purposes, be used as a 14 day free trial, ensuring that users do not have to blindly commit to a year's worth of payments.

Privacy and Security
The service is advertised as a tool for enhancing internet security and offers military grade encryption, protecting internet usage from being observed by unwanted sources. 12VPN can be used wherever you are in the world, in order to connect securely to the internet.
The range of VPN protocols available is a huge plus point and 12VPN uses 128-bit or 256-bit encryption techniques for OpenVPN, which is considered the best protocol for truly anonymous browsing.
For its part, the company assures customers that it does not monitor or store logs of any user's browsing data or activity. As a result, it a suitable service for those who have concerns about internet privacy or are worried about snooping. However, like many similar services, 12VPN operates a no P2P policy, which may put some users off.
Support
One of the few negative aspects of the 12VPN service is its customer support section. In terms of contact, email is the only real option, while other VPN providers offer live chat, Skype and telephone support.
That said, the company strive to respond to emails as soon as possible, with people working 24 hours a day in the role. Nevertheless, it is inevitable that some users will face a delay in receiving help or advice on any issues which may arise.
Pros and Cons
Pro 12VPN:
+ Reasonably priced, when compared to other VPN services on the market, with a money back guarantee.
+ Fast speeds and unlimited data on all of the price plans except the mobile-only plan.
+ Servers in countries all over the world, rather than bunched in one or two areas.
Contra 12VPN:
– No phone or live chat support, meaning customers with issues may face a delay in receiving assistance.
– One year minimum term on basic and mobile price plans may prove too much of a commitment for some users.
Conclusion
With its competitive pricing and impressive speeds, 12VPN is a solid Virtual Private Network service, suitable for the needs of most users. The range of servers available means that blocked content from all over the world can be accessed, while the encryption ensures browsing remains private and anonymous.
The only downsides are a slightly lacking customer support section, a no P2P policy and the year-long commitment required for the most basic service, although a 14 day guarantee essentially serves as a trial option for customers with doubts.
Go to 12vpn.com