GoVPNGo Review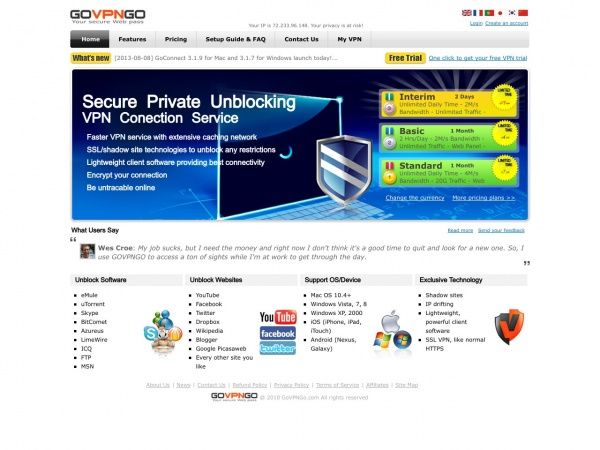 | | |
| --- | --- |
| Clients | Windows, Mac OS, Linux, iOS, Android |
| Countries | 2 Countries |
| Filesharing | allowed (Premium) |
| Logfiles | No Logfiles! |
| Money Back | 3 Days Money Back Guarantee |
| Payment Options | Credit Card, Paypal |
| Protocols | OpenVPN, PPTP |
| Servers | 20+ VPN Servers |
| Traffic-Limit | No Limit (but 20GB at Basic account) |
| Price | from $ 4.99 |
| Connections | No Simultaneous Connections |
| Company Location | Asia |
| Best Use | Remote Access Unblocking Video Streaming Unblocking Websites |
| Encryption | 128-Bit |
About the service of GoVPNGo
The VPN provider GoVPNGo was founded in 2010 by developer, innovator and current CEO Mark Noon. Currently, the servers for GoVPNGo are found in both Japan and Hong Kong (more than twenty are in use).

As many will guess, this VPN service is centred around providing fast and reliable network coverage to those who may be travelling abroad. This service can be seen as ideal for those who may not require a considerable amount of bandwidth and will only be utilising GoVPNGo for a limited amount of time each day. In simplest terms, this VPN software is a bit more basic than its competitors. Let us take a closer look at some of the finer points associated with GoVPNGo.
Pricing Packages
Notwithstanding a free trial period that is valid for two days and provides a bandwidth of two megabytes per second, there are three programmes to choose from.
The Basic package is currently priced at $4.99 dollars per month and will accommodate up to two hours of use each day (with unlimited web traffic).
The Standard option is priced at $7.99 dollars a month, there are no usage limits and the bandwidth has been upgraded to four megabytes per second.
The Premium package costs $14.99 dollars a month and provides unlimited bandwidth, web traffic and there are no time restrictions. It is worth noting that ONLY the premium will support peer-to-peer file sharing.
Features
Many of the features that are offered by GoVPNGo are considered the industry standard. For example, the software currently uses 128-bit encryption (as opposed to the 256-bit employed by the most advanced VPN networks). It should be noted that it appears that only a small download is required to begin the service; the majority of the additional software is contained in the cloud and the service can be accessed by logging into the GoVPNGo website, choosing the correct server and connecting. Thus, connecting is much more "hands-on" than with other providers. A mobile application known as OpenVPN Connect is additionally available for mobile devices. There are several other features worth noting:
The software is supported by Windows 7, Vista, XP and 2000.
Cached servers provide quicker access to frequently visited websites, music or video files and Internet content.
"Shadow Sites" will help to ensure that an ISP is less likely to be blocked.
Servers within Asia and Australia (upgrading to Europe and the United States shortly).
Server redundancy.
A free trial period (limited functionality).

Special Additions
Although GoVPNGO can appear to be a bit of a "bare bones" VPN, there are indeed a few noteworthy innovations to be seen.
IP Drifting
This is a newer system that will dynamically switch VPN servers based upon web traffic. In essence, this method helps to ensure that the client is not blocked from accessing a certain website. However, this may not eliminate the risk entirely.
Cloud Memory
As seen in the features section above, client data is cached in a set of dedicated servers. In a way, this can be thought of as similar to a "quick links" section on a standard Internet platform. By having this information readily available, files and websites will be able to be accessed faster than under normal VPN conditions (according to GoVPNgo).
Analysis of Features
It should first be noted that GoVPNGo is still a relatively young provider and currently, it is mainly designed for those who live or are planning on travelling to Australasia. Having said this, the main pros of this system can be viewed as:
Low pricing and flexible plans.
No contractual commitments.
Lightweight software.
Amenable streaming speeds.
However, there are still some notable negatives that need to be taken into account such as:
128-encryption as opposed to 256 bit.
GoVPNGo employs PPTP connections as opposed to SSL.
A limited number of operating systems are supported.
No anonymous payment methods.
Cached data raises the question of true anonymity.
Relatively low download limits and narrow bandwidth.
P2P sharing is only offered in the premium package.
A final metric that appears to be somewhat lacking at the present is a robust level of customer service. The website is written rather clumsily and according to their own admission, only a contact request form or standard email is available. Thereafter, the client will be attended to in one business day (note that this is correlated with the Australian time zone).
So, there are indeed some drawbacks associated with GoVPNGo in terms of functionality, encryption levels and client support. Nonetheless, those who are looking for a VPN that is minimalistic and will still offer basic services are likely to enjoy GoVPNGo.
Go to govpngo.com