Kepard VPN Review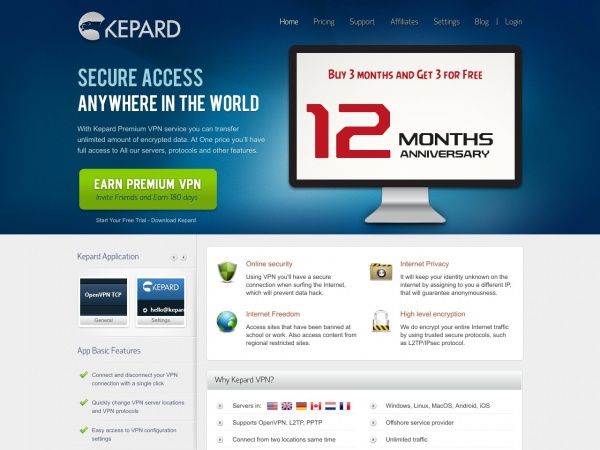 | | |
| --- | --- |
| Clients | Mac OS, Windows, Linux, iOS, Android |
| Countries | 8 Countries |
| Filesharing | partially (Netherlands) |
| Logfiles | No Logfiles! |
| Money Back | 30 Minutes Test Account |
| Payment Options | Paypal, Credit Card |
| Protocols | PPTP, L2TP, IPSec, OpenVPN |
| Servers | 15 VPN Servers |
| Traffic-Limit | No Limit |
| Company Location | Moldova |
| Price | from $ 7 |
| Connections | 2 Simultaneous Connections |
| Best Use | It is not recommended to use this provider. |
| Encryption | 128-/ 160-Bit |
Warning: Kepard seems to scam and blackmail its advertising partners / affiliates. In our case, they denied the payment of several hundred dollars for advertising  if we dont move them to a better position on our sites. We can just advise you not to make business with their service. If they betray their advertising partners – what do they do with their customers after you paid for the subscription? Choose  IPVanish, HidemyAss or VyprVPN instead.
About the VPN service of Kepard
While the VPN market is crowded, the services offered vary from one provider to another. Kepard is one such provider. Its headquarters are in Moldova, and it has server locations in eight countries including the US and the UK. The company started offering its services in 2012 and its VPN supports Mac OS, Linux, Windows, and Android operating systems. The company started offering its services in 2012 and its VPN supports Mac OS, Linux, Windows and Android operating systems. Due to the presence of Kepard servers in numerous countries, users can access live TV and other services in those regions anonymously and without restriction. Below are the other key aspects catered for by Kepard VPN.

How it Works
The VPN provided by Kepard encrypts communications. This means that even when the user is on a public network, their surfing can remain secure. This function can be especially helpful where financial data, personal files, or other sensitive information is being transmitted to different websites. Nonetheless, since this VPN doesn't reduce the speed of the internet connection, it may also be suitable for everyday use. Kepard VPN allows for the user to not only access barred websites, but also to circumvent any internet filters that have been set up. In regions or institutions where the internet is censored therefore, one can still access the information they need by applying VPN. In addition, there are instances where a user may need to conceal their real location or simply use a different IP to access certain sites. Kepard VPN can cater for such users. Kepard is easy to set up. Thus, both experts and novice users can install and configure the software without difficulty. After signing up and making payments, one can install Kepard on their computer, a process that takes about five minutes after which the person will be all set for anonymous browsing. When a user accesses any website through Kepard, they are rerouted to servers in the countries they have selected and in the process, their IP address is also changed .Encryption of data is part of the procedure.
The servers of Kepard VPN are located in:
Germany, France, UK, Canada, Netherlands, Sweden, Switzerland, United States.
Security and Privacy
L2TP/IPSec and PPTP protocols are available for iPad, iPhone, iOS and Android users. The other protocols integrated into the software include Open VPN UDP and Open VPN TCP, and the data encryption offered is two way (256bit). Moreover, at the press of a button, users can switch to their preferred server as the application provided has a feature that allows for this. On account of this, even individuals with little knowledge about how VPN functions can take advantage of the software.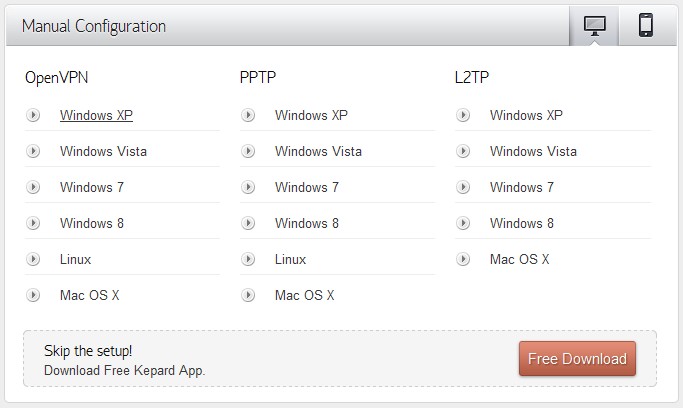 In using a VPN, the router's inbuilt security is bypassed. To provide protection therefore, Kepard includes a NAT firewall in its package. This firewall serves as an additional security layer that impedes unpermitted traffic from getting to the user's computer or mobile gadget. Note, unlike desktops, most mobile devices lack an inbuilt firewall protection and even in instances where such built-in security is offered, it is never sufficient. When Kepard VPN is operational, connection speeds cannot be throttled by the internet service provider. Besides, the VPN logs user activity for just 3 days after which the records are cleared. Because of this, the user remains protected throughout. This feature also makes it harder for hackers to access confidential information as constant monitoring is rendered unfeasible.
Possible Pitfalls
Kepard doesn't provide free trials. For users to enjoy any free offers, they have to get an extra person to sign up for the company's packages. In addition, Kepard has few severs; this implies that in the event of a surge in the number of customers, they may become overloaded. Another issue of concern is in connection with the Payment provisions. Clients can pay for the VPN services either through PayPal or credit cards. While this works well when it comes to security matters, it also works as a disadvantage for those who do not have credit cards, or those who may find it more convenient to pay through methods such as Bitcoin.
The Client
Support
The VPN provider that a customer settles on should be dictated by the individual's intended use. People who travel frequently or those who may wish to access content that they may otherwise not be allowed to will find Kepard useful. Kepard customers can access the servers they need and switch between them without connection problems. In reference to that, the switching can be done at no extra cost as these charges are already covered in the subscription fees. The company's services are offered at a fair cost and suited for personal use. In using this VPN, one doesn't need to acquire new equipment or software; once the application is installed, normal browsing habits can be maintained only that in this instance, the experience is better and the protection is heightened at the same time. For individuals with questions or concerns on the services offered, customer support is offered through a number of avenues including support tickets, tutorials, email, and an FAQs section.
Go to kepard.com