Perfect Privacy VPN Review
| | |
| --- | --- |
| Clients | Windows, Mac OS X, Linux, Android, iOS |
| Company Location | not specified |
| Countries | 23 |
| Encryption | AES-256-Bit, IKEv2, MPPE-128 |
| Filesharing | allowed |
| IPs | not specified |
| Logfiles | No Log Files! only safes username, password and timeout of contract |
| Money Back | no |
| Payment Options | Bitcoin, Cash, PaySafeCard, PayPal, Credit Card, Perfect Money, MoneyBookers, Neteller, EgoPay, WebMoney |
| Price | from € 8.95 |
| Protocols | OpenVPN, IPSec, SSH2 Tunnel, Squid- and Socks5-Proxyserver, PPTP |
| Servers | 36 |
| Traffic-Limit | unlimited |
| Best Use | Remote Access Unblocking Video Streaming Unblocking Websites |
Perfect Privacy provides a secure VPN service, particularly suited to consumers looking for some of the best online anonymity plans. The company offer 36 servers across the world based in 23 different countries (as at December 2014), although their service is particularly suited to European consumers due to server locations.
Perfect-Privacy has servers in: Canada, Germany, USA, Turkey, France, Switzerland, Netherlands, Luxembourg, Australia, Egypt, China, Ukraine, UK, Russia, Panama, Iceland, Brazil, Sweden, Israel, Japan, Lithuania and Romania.

Signing up with Perfect Privacy is just a case of selecting the best available payment plan and registering for the service. Payment plans can be taken out monthly in advance or at discounted rates over longer periods of time. Perfect Privacy does not offer the cheapest VPN service on the market, but it does give great security and anonymity to users who are looking for some of the most secure VPNs on the market at this time. It's possible to pay for a plan with a number of payment options, including BitCoin for customers who don't want to provide more than an email address with their account registration. Bitcoins can be bought on the internet on platforms like localbitcoins or bitcoinbinaryoptions.net.

Much of the Perfect Privacy administration and user information is only available to active customers who can access member locations on the website, although the forum does provide some basic information and details on common problems and fixes that users experience. Perfect Privacy does not offer any trial period for customers to check out the service and the website is rather vague on whether or not any money back guarantee is offered to consumers.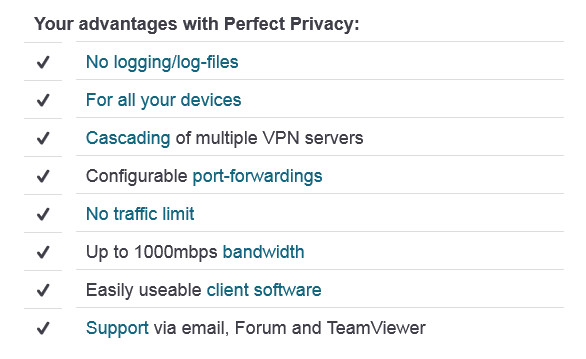 They do offer customer support, again more information is available on the Member site so this is not an area on which the company focus. Online reviews of the Perfect Privacy customer service experience seem to highlight they are pretty poor when it comes to resolving customer queries and problems and it is only possible to get in contact with support services via the contact form on the company website or via email.
They do offer guidelines and tutorials for downloading the VPN to customer devices, although the information is a little sparse and not so comprehensive as details given by other VPN providers. In some respects this is quite a poor show from Perfect Privacy, given the fact their VPN is one of the most costly on the market.
Perfect Privacy provides a "How To" section on its website giving customers information on how to download the VPN to a number of devices. Customers will find details on loading the Perfect Privacy VPN for Windows, Apple iOS, Apple Mac OS X, Linux and routers. Available protocols include OpenVPN, IPSec, SSH2 Tunnel, SOCKS5 proxies and Squid proxies with L2TP and PPTP available on devices such as iOS.
Professional VPN users will find the security aspects of this level of encryption does offer peace of mind and anybody who enjoy frequent file sharing activities will also find this service ideal as Perfect Privacy have no problems with torrenting and P2P activities from most of their servers. The servers in the United States are blocked for some file sharing due to the strict copyright laws operating within the States.
From the point of view of speed tests Perfect Privacy is fairly slow, which is to be expected given the high security levels operated by the site. In this respect any customer wanting to stream popular media may well be disappointed by data transfer speeds. Most VPNs do operate at slower speeds than those that can be achieved by ISPs but the high levels of encryption that Perfect Privacy offer does slow down the service immensely. Where customers want similar encryption levels to those experienced by government security agencies this is probably a great choice of provider, however for the general Internet browser and filesharing customer the speed slowdown may be a negative factor with this service.
Anybody who has sincere doubts about Internet privacy and wishes to remain anonymous while browsing websites and transferring data is well advised to sign up for a VPN to achieve total peace of mind. No matter if you want to download your favorite Oculus Porn, communicate anonymously or access websites and services which are restricted in your country. Perfect Privacy is one of the suppliers that does take its customers security issues on board and offers a service which meets needs for anonymity.

However, the substantial costs for the company price plans and the speed slowdown are of serious concern. Users who want to access a VPN service which focuses on the European networks and customers may find this VPN is a perfect choice, as most servers are located within this area. Many VPN customers like to sign up with a company offering more servers within the United States, however, and servers across Asia, the Middle East and Africa are a positive advantage offered by some of the bigger VPN providers.
All in all, this is a great service for customers with low speed expectations but high need for anonymity on the Internet, although prices may put the Perfect Privacy VPN out of reach to some people.
Go to perfect-privacy.com