Steganos Online Shield VPN Review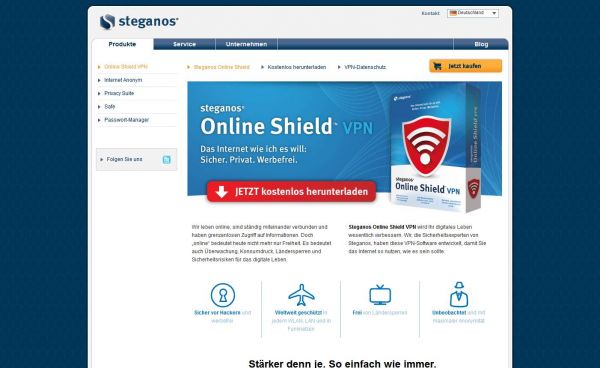 | | |
| --- | --- |
| Clients | Windows |
| Countries | 1 Country |
| Filesharing | allowed |
| Logfiles | Yes |
| Money Back | 30 Days Money Back Guarantee |
| Payment Options | Credit Card, Bank Transfer, Direct Debit, Check, Giropay, Paypal |
| Protocols | OpenVPN |
| Traffic-Limit | 100 GB / month |
| Company Location | Germany |
| Price | from 5.83 € |
| Connections | 5 Simultaneous Connections |
| Encryption | SSL |
| Best Use | Remote Access Unblocking Video Streaming Unblocking Websites |
About Steganos
Steganos Software GmbH is a German company that derives its name from Steganography, which refers to hiding one message, image or file within another. It was established in 1996 by entrepreneurs Fabian Hansmann and Gabriel Yoran, and has been building up a strong reputation ever since. They were the first company to come up with commercially available software that used this style of encryption and also adhered to the Advanced Encryption Standard (AES.)
The company is primarily known for its internet anonymity and privacy software, which is used by both domestic and commercial customers. Steganos is involved in the Intel Early Access Program, which is designed to include security input at the earliest stages of new technology development. Previously known for its Internet Anonym VPN, Steganos has now launched its successor, Online Shield 365 VPN.
The product claims to tackle the usual security features, ensuring that the IP address is obscured, protecting identities from hackers and blocking targeted advertising. It uses the AES-256 bit process to encrypt data transmissions, offering protection from hackers even when using unsecured hotspots. Users are also able to mask their location by choosing a server in a different country, thereby skirting any blocked content in their actual location; and it offers internet anonym technology to disguise online identities, which obstructs surfer profiling.
The Client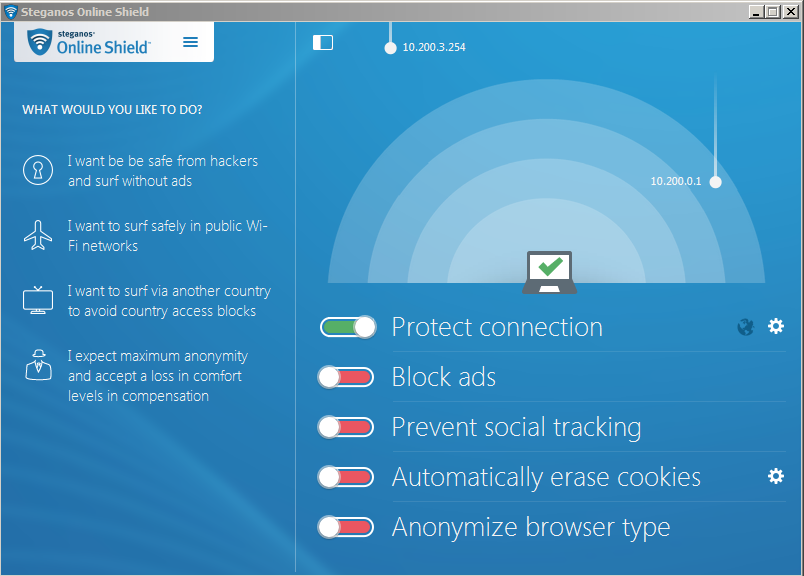 How it Works
The set-up and usage of Online Shield 365 is simple as the user could wish for, at around 13MB the program is relatively small and fast to download. There is an express set-up option available, which originally included a browser toolbar and registry cleaner, add-ons that nobody wanted and generally upset unwary users. This has now been removed in the latest versions, due to poor reviews.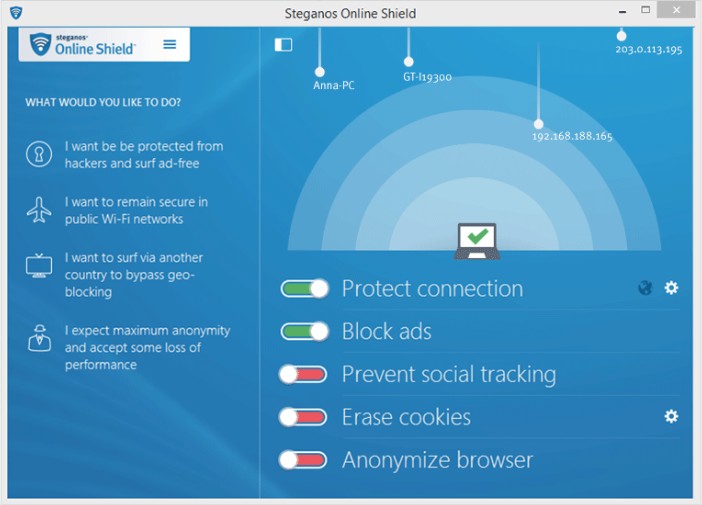 The setup is very straightforward and once the program is running it requires little attention from the user. The only options are to choose the language setting and in which country the server should be located; which might be governed by a wish to avoid content blocking, or a preference for localised content from streaming websites. Options for the choice of country include the USA, Switzerland, Germany, France or Great Britain.
The welcome screen has a simple switch to turn the system off or on, after which the shield logo turns from red to green and the system is protected. For users of the limited version it is possible to switch between tasks to avoid exceeding their usage limit.

Pros and Cons
Where Online Shield 365 does appear to score well against its rivals is the way that it overcomes the drop in connection speed. There is a significant decrease in speed, but this compares very favourably with other VPNs which suffer more significantly. Testing the speed is not straight forward, as without the software systems will automatically connect to a local server, but once it is switched on it will be connected to a secure Steganos server, possibly on another continent. Comparisons can be made by manually selecting a server in the same region as the new IP address shown by the system, and then running the test. On this basis, the speeds do hold up.
The company explanation is that their load-balancing is very effective, automatically switching users to servers with a lesser demand. Online Shield 365 is available as a free download but this version is limited to 500MB per month, which will allow for small tasks, but is not up to most people's usual usage; and the connection speed is slower. Users will also have to click on upgrade advertisements with every new screen that appears, selecting the 'not now' option.
There have also been cases with the free version where the software has dropped the connection, which could in theory compromise the very security it is there to protect. This makes the unpaid for version suitable as a trial but not as a permanent fix as there are totally free alternatives available without the downsides.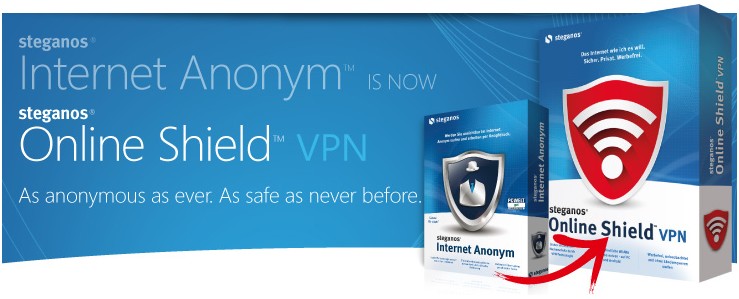 Conclusion
Generally, Online Shield 365, has plenty going for it as a VPN, the pros include the ease of use and the connection speeds that are achievable. System requirements are basic, so that anyone with a reasonably current machine will be able to run it. Another plus point is that the VPN travels with the user, wherever they travel, which makes sense for anyone who logs on at different points on a regular basis.
The premium package covers up to five separate devices and includes Android and Tablets. One anomaly is that after choosing an IP address in another country, the host company, Steganos, will still send marketing material to users as though they are still in their home location.
Online Shield 365 VPN does not act as a substitute for the usual internet hygiene procedures and should be seen as an additional level of security, rather than an alternative.
Go to steganos.com