SuisslVPN Review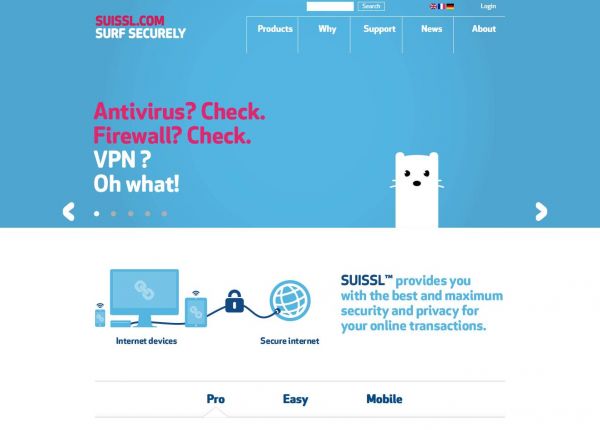 | | |
| --- | --- |
| Clients | Windows, Mac OS, Linux, iOS, Android |
| Countries | 2 Countries |
| Filesharing | not allowed |
| Logfiles | Yes |
| Money Back | No |
| Payment Options | Paypal,Credit Card, Debit Card, bank transfer, Webmoney, Micropayment, Giropay, €NETS, ING Homepay, China Union Pay |
| Protocols | OpenVPN, PPTP |
| Traffic-Limit | No Limit |
| Price | from 5.00 € |
| Connections | 2 Simultaneous Connections |
| Company Location | Switzerland |
| Encryption | 128-/ 256-Bit |
| Best Use | Remote Access Unblocking Video Streaming Unblocking Websites |
About Suissl
Suissl.com is a premium Virtual Private Network service, which is based out of Zurich, Switzerland and has a presence within the United States. As a result, the business falls under the terms of the Swiss Federal Act on Data Protection, which it complies with fully.

Since its foundation in 2009, Suissl has grown into one of the top-rated VPN services in Europe. The company are strong advocates for online privacy and market their product as an internet privacy and security solution, as well as a means of bypassing ISP level blocking of websites, or geo-restricted content.
How it Works

Like with other VPN providers, Suissl has its own client software, which needs to be installed on the device being used. Once registration has been completed and the software is installed, customers have access to the network itself, which consists of servers in Switzerland and the United States.
When a user connects to one of those servers, they effectively take on that IP address, giving them online anonymity, as their internet activity will appear to be coming from the location of that server. In addition, inbound and outbound traffic is encrypted, offering protection from various security threats like snooping, even from an Internet Service Provider.
Pricing
Suissl provides three different services: Easy, Mobile and Pro. As the names suggest, Easy is designed for people with the most basic requirements, Mobile is made with mobile phone users in mind and Pro combines the previous two services, while also offering faster speeds and the ability to use the service on multiple devices.

At present, the Easy and Mobile services are available for €5 per month, while the Pro service costs €10 per month. This is reasonably competitive, although the Pro service is slightly on the expensive side and the lack of a free trial option does not allow users to test the service prior to making that investment.

Another potential downside of the company's pricing strategy is the lack of an option to subscribe for longer than one month at a time. As a result, they are not able to offer the same long-term sign up discount that many other VPN providers offer.
Privacy and Security
The main VPN service makes use of 256-bit OpenVPN encryption where possible, which is an extremely secure protocol. In fact, the company claims that its encryption methods are so safe that it would take billions of years to ever break the encryption.
On the other hand, the mobile service utilises the slightly less secure PPTP protocol, although that is to be expected, as most mobile devices do not currently support OpenVPN technology.

Suissl claims not to keep logs of user internet activity (you can safely watch vr sex videos online ;)), aside from basic information like IP addresses and user log in times. The company asserts that this information is kept for customer service reasons and is stored for six months, but the privacy policy states that they reserve the right to keep this information for up to one year.
Support
A major plus point for the service is the level of support made available to users who have issues or questions. This support network includes a live chat function, an online query form and a Frequently Asked Questions section on the website, catering for most of the common concerns customers may face.
Perhaps the strongest aspect of the Suissl customer support system is the amount of different languages which are catered for. Currently, live chat support is available for people who speak English, Spanish, German or French, while the website itself is viewable in either English, German or French.

Pros and Cons
Pro Suissl:
+ Good level of customer support, with help available in either English, Spanish, German or French.
+ Compatibility with PCs, mobile phones and tablets, covering most of the major operating systems.
+ The company insists that it does not keep a log of website visits or general user activity.
Contra Suissl:
– Has a relatively small number of servers and they are only located in Switzerland and the United States.
– The fastest internet speeds and multi-device support are only available on Suissl's most expensive package.
– No free trial option available, which means customers have to buy before they try the product.
Conclusion
Overall, Suissl provides a solid service, on multiple devices and most major operating systems. It uses excellent encryption technology, therefore living up to its claim to be a high quality security product, and offers impressive levels of customer support. Although some user data can be stored, customers are free from having their activity monitored or recorded.
That said, in terms of negatives, the fastest speeds are only available on the Pro service, which strays towards the expensive side of the market. Moreover, Suissl only have servers in Switzerland and the United States, which offers people a fairly decent range of options and uses, but limits the effectiveness of unblocking content from other parts of the world.
Go to suissl.com