SmartyDNS.com Review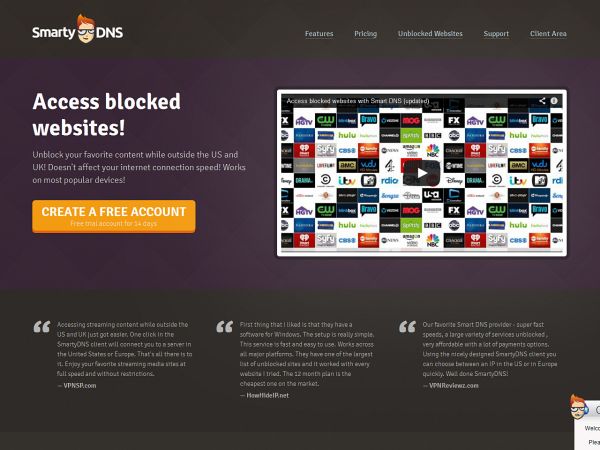 | | |
| --- | --- |
| Price | 3 days free trial, account from $6.95 |
| Payment Options | Yandex, Boleto, Discover, Webmoney, Bancario, Credit Card, Alipay, Qiwi |
| Money Back | 30 Days Money Back Guarantee |
Accessing popular media streaming content from outside the United States, United Kingdom or Poland is easy when users sign up for Smart DNS or VPN services from SmartyDNS. Blocked sites are commonplace for anybody wishing to watch television programmes, sports events, movies or films from the geographically restricted popular streaming sites such as Netflix or BBC iPlayer. When Internet users sign up for Smart DNS services, these channels are unblocked easily and the media can be streamed to large screen Smart TVs.

SmartyDNS provides a 3-day free trial for any Smart DNS  user wishing to check out the simplicity of the service and payment plans which can be signed up for over a month, three months, six months or a year. Plans taken out for periods of longer than a month are available at discounted rates. Customers signing up for a second SmartyDNS service will receive 50 percent discount off the charge, so long as SmartyDNS are advised prior to the new plan registration. Customers can pay with a variety of methods including Paypal, Yandex Money, Alipay and all major credit or debit cards. In the event that paying customers cannot access the SmartyDNS servers, the company does offer a 30-day money back policy.
Using the SmartyDNS service allows customers to access virtually all of the major popular media streaming channels in the three countries of operation. Unblocked sites include Hulu, Netflix, BBC iPlayer, BBC Sport, Pandora, Fox, Crackle and HBO. Customers who cannot access their favourite channels can also submit a request to SmartyDNS to unblock the site.
Smart DNS can be set up for any Internet-enabled device and SmartyDNS have a variety of tutorials on their website to help customers set up the service for popular devices. Helpful tutorials are provided for Now TV Box, iOS Devices, WD TV, and Windows. Customers will find it easy to set up SmartyDNS on any device as it's simply a case of changing the DNS code on the device to the SmartyDNS codes. Once customer devices are enabled for the service it's an easy matter to switch between popular media channels and access the required streaming services.
Customer support is available online with a variety of useful tutorials, FAQs and customers can also access support services direct via live chat or when they open a support ticket. SmartyDNS also provide a restricted client area which can only be accessed by customers by way of entering a valid email address.
With Smart DNS the speed of streamed media is not compromised by the service, the only input SmartyDNS have is to switch the DNS details so customers can log onto popular sites. This is unlike VPNs which do slow down the speed of streamed data due to the high levels of encryption they provide. Where customers purely wish to access their favourite channels from anywhere in the world SmartyDNS is a great choice. The streamed media can be viewed on large screen devices such as televisions, allowing the customer to experience better visuals and sound than provided on computers or mobile devices.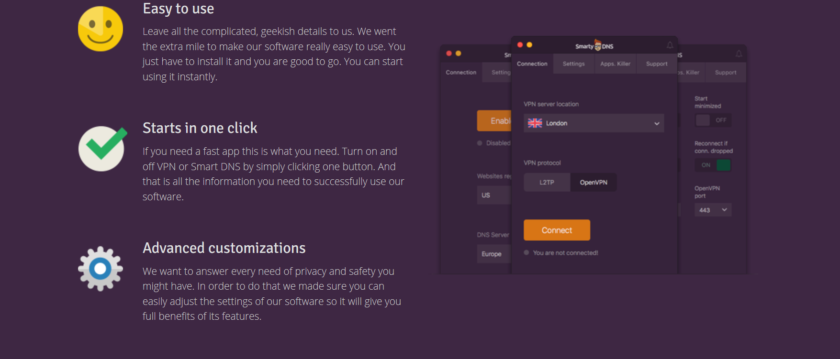 Frequent travellers, expats and people living away from their home countries for a while will appreciate the opportunity to watch their favourite television programmes and films from their new location, just by changing the DNS lookup on their Internet-enabled devices.
With the generous discounts SmartyDNS offer to customers purchasing two or more payment plans, this is a great Smart DNS supplier. What's more the free trial period assures any user that they have made the right choice of provider and the service does all it promises.
Go to smartydns.com
Supported Channels by SmartyDNS.com
Just click on a Channel-Logo to see which other Smart DNS Services support this channel: