Unblock & Watch WWE Battleground Anywhere Free Online

Wrestling is among the most popular sporting events taking place all over the world, with fans crowding and watching the live events in real life or with the use of pay per view channels. One such channel is WWE Network, offering subscription based services to all the viewers located in well over 140 countries. WWE Battleground took place on July 19th and there is the Summer Slam coming up on August 2nd and 3rd. With all these events available to the viewers, a monthly subscription looks extremely tempting. $9.99 per month is not a lot, especially if you take into account the fact that you gain access to all the content streamed online.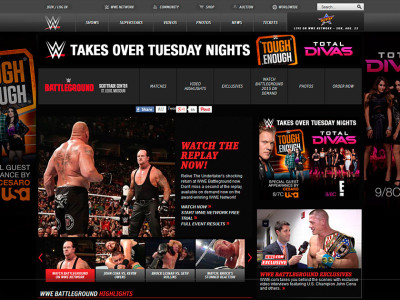 Located in the United States, WWE Network is available for viewing in Australia, Brazil, Canada, Denmark, Finland, Hong Kong, Iceland, India, Ireland, Italy, Mexico, New Zealand, Norway, Portugal, Singapore, Spain, Sweden, United Kingdom and of course in the United States. All the viewers that reside in countries other than the ones highlighted above do not have access to the content, though. Due to copyright restrictions, it is true that broadcasting is not available universally and this makes people search for a way out of this limited access. On the bright side, there are ways for you to make use of towards enabling the smooth broadcast and the uninterrupted access to WWE Network, alongside its ongoing events. Let's find out more about it, shall we?
How Can We Watch WWE Battleground and Others Abroad?
What stands between you and the access that you want to channels and websites, such as WWE Network, is your IP address; this means that you have got to adjust your IP address, according to the limitations applied at these GEO-IP websites. Instead of having a French IP address or an IP address coming from Turkey (these are both countries besides the ones allowing full access to WWE Network), you will need to change to let's say a US IP address. As a result, you will get full access to channels like those that are only restricted to US residents.
There are two major methods that you can choose from, in order to reap the benefits of an altered IP address:
VPN: The Virtual Private Network is a complex system of servers, which are located remotely all over the globe at crucial, well-pointed places. As soon as you subscribe to a VPN service provider, you will get the opportunity to select the server that meets your needs. In this case, you would be in need of a US based server. After that, all your traffic will be redirected to this specific server and you will get a brand new IP, deriving from this American server. Plus, you will get encryption and this is a definite advantage to your overall safety online.
Pro Trick: If you are only abroad for less than a month – we recommend you to get a VPN with 30 days money back guarantee like Express VPN. This way, if you do not need the VPN after your trip – you can just cancel it and get a full refund. VPN for Free 🙂
Top 3 VPN Provider to watch WWE Battleground all over the world
Company Location: Panama
IPs: 5000+
Countries: 61+
Money Back Guarantee: 30 Days
Company Location: Romania
Countries: 23 Countries
Money Back Guarantee: No
Company Location: Switzerland
IPs: 200.000+ IPs
Countries: 48 Countries
Money Back Guarantee: 30 Days
SmartDNS: Along with the use of VPN, you can also use SmartDNS services. This is pretty easier than the VPN, as the setup is easy and you do not have to mask your IP for your web surfing activities. On the contrary, you simply mask your IP for the GEO-IP websites and channels that you could not otherwise access. Without the additional encryption, there is no safety layering involved here in this case, but this means that you do not lose any speed whatsoever throughout the whole process. You choose the channel that you want to unblock, rather than the location of the server you are going to use.
Top 3 SmartDNS Provider to watch WWE Battleground all over the world
Countries: USA, Canada, UK, France, Australia, Switzerland, Japan, Germany, Hong Kong, Egypt, New Zealand, India, Swedem. UAE
Money Back Guarantee: 30 Days
Devices: 27
Money Back Guarantee:
Devices: 27

Money Back Guarantee: 3 Days
Devices: 0
VPN or SmartDNS: What Should I Choose?
One thing comes to mind, after having analyzed both these methods that can lead to unblocking WWE Network universally: what should I choose between these two? Well, even though there are both advantages and disadvantages in either one of these methods, there is no such thing as the indisputable truth that outweighs one solution over the other.
It depends on what you value first; if you value privacy over anything else, the use of encryption seems like a win-win situation. You get to unblock the websites and channels of your preference, while keeping all your data encrypted and out of reach. If, however, you prefer speed and low cost over all other factors, the use of SmartDNS is the best option for you.
Weigh all these features and base your decision on what you want in order to benefit from the unblocking of WWE Network with WWE Battleground and all other events globally!