CyberGhost VPN Review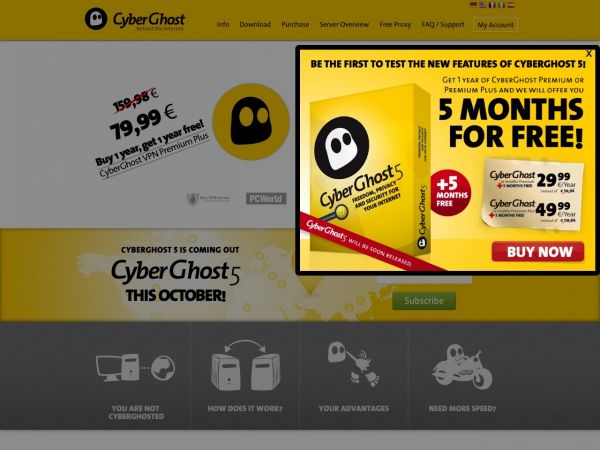 | | |
| --- | --- |
| Clients | Windows, Mac OS, iOS, Android |
| Company Location | Romania |
| Countries | 23 Countries |
| Filesharing | not specified |
| Logfiles | No Logiles! |
| Money Back | No |
| Payment Options | Credit card, Paypal, Bitcoin, Bank Transfer |
| Protocols | OpenVPN, L2TP, IPSec, PPTP |
| Servers | 280 VPN Servers |
| Traffic-Limit | No Limit |
| Connections | 5 Simultaneous Connections (only at Premium Plus Account) |
| Encryption | TLS, SSL |
| Best Use | Anonymous Surfing Remote Access Unblocking Video Streaming Unblocking Websites |
About CyberGhost
Based out of Bucharest, Romania, with a significant presence in Germany, CyberGhost was originally founded in 2004 and has grown into one of the biggest Virtual Private Network providers on the market. Today, the service has more than 2 million users in total, with around 300,000 unique users logging into the service every month.

Unlike many VPN providers, CyberGhost offers a completely free service, with no obligation to sign up for a paid membership. Additionally, there are two different paid services, which provide users with additional benefits, such as faster speeds and a greater range of options.
How it Works
CyberGhost VPN provides its users with an anonymous internet connection, protecting privacy, allowing access to blocked or geo-restricted content and helping to fight the threat of hacking and cyber fraud. The service can be used on a PC, mobile or tablet and CyberGhost can be used for browsing, downloading, uploading or chatting online.

In order to make use of the VPN, users must download a free and easy-to-install application, which does not request personal information. After installation, a user has access to the CyberGhost VPN network.
When connected to the network, users are provided encrypted internet connection, which keeps your data safe and secure. Moreover, a selection of new IP addresses will be offered, giving users a new online identity, making them effectively invisible and anomymous. Their original IP address is hidden completely.
CyberGhost VPN Servers around the world:
Denmark, Germany, Finland, France, Great Britain, Ireland, Iceland, Italy, Luxembourg, Netherlands, Norway, Austria, Poland, Romania, Russia, Sweden, Switzerland, Singapore, Spain, Switzerland, Ukraine and the United States.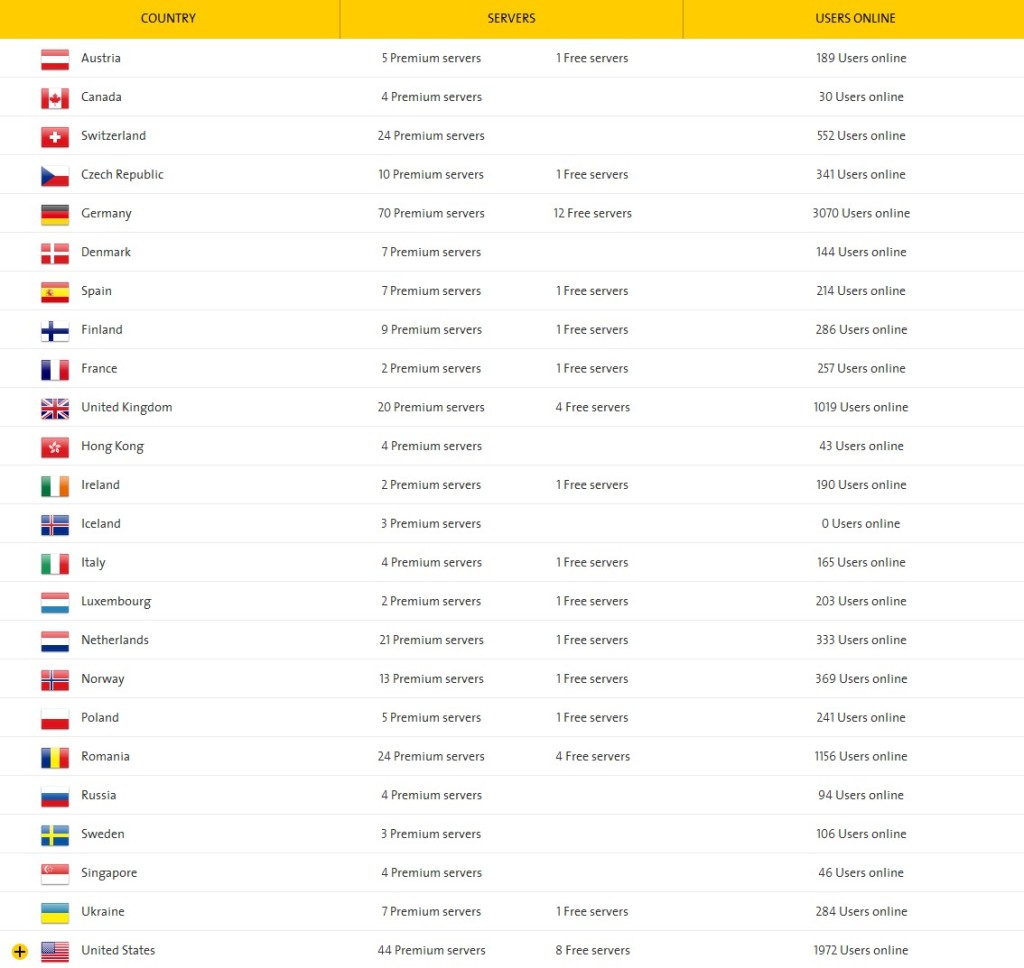 Price Plans
In total, CyberGhost offers three different price plans, with the most basic plan being completely free, with no obligation. The free service provides generally decent connection speeds, although they can vary depending on which of the 37 servers you are connected to.
The main downsides to the free service are a 1 Mb/s speed cap, the presence of occasional adverts and an automatic disconnection after six hours of use. However, users are able to manually reconnect immediately, so it is not a major problem considering the quality of service provided free of charge.
For more demanding users, two different paid subscriptions are also available. The premium service costs £4.49 per month, while the premium plus service is £6.99 per month. Both options are available as a one-month, 12-month or 24-month subscription and GyberGhost offers a free one-month trial for the premium service.
Neither paid subscription services have adverts or the automatic disconnection after six hours. Additionally, both offer a total of 288 servers and considerably improved connection speeds from the free service. The 256-bit OpenVPN encryption is reserved for premium plus members only.
Privacy and Security
Although Romania is technically included in the European Union's data retention laws, those laws have not been effectively implemented and for their part, CyberGhost offer assurances that they do not record or store their user's internet activity.
An antispy add on feature to the application offers various options, which can provide users with heightened security and greater assurances that they are browsing anonymously.
One of the only restrictions to the CyberGhost VPN service is the sending of emails. In an attempt to prevent spammers from using the network, emails cannot be sent using the service. However, email accounts can be added to an exceptions list, meaning emails can still be sent, just not through the VPN.
Support
Support is available from a number of sources, including a direct online chat function, which provides the fastest option for customers wishing to receive information, help or advice. Further direct support is offered through an online forum.
Moreover, the CyberGhost website has a comprehensive Frequently Asked Questions section, which covers the vast majority of questions or concerns users are likely to raise, without the need to talk directly with anyone.
Pros and Cons
Pro CyberGhost:
+ Completely free and more than suitable for most needs, with paid services for those wanting faster speeds.
+ Speeds on the two paid membership services are excellent.
+ Easy to setup, excellent user interface and plenty of options to play with.
+ No logs of browsing data or user information are collected or stored by the company.
Contra CyberGhost:
– Free service automatically disconnects users after six hours of use, although users can reconnect instantly.
– Majority of servers are based in Europe or North America, meaning users elsewhere may suffer slower speeds.
Conclusion
Overall, CyberGhost VPN offers a stable, safe, easy-to-use VPN service, completely free of charge and aside from a few minimal restrictions which might bother some people, it is more than suitable for most people's needs.
For those with slightly greater demands, two fairly cheap paid services are available, offering better speeds and removing the restrictions associated with the free version.
The fact that CyberGhost provides a free service and does not keep logs of user's data and web use makes it a valuable VPN provider, suitable for anonymous browsing, heightening security or bypassing geo-restricted content without the fear of being monitored.
Go to cyberghostvpn.com