ExpressVPN Review
| | |
| --- | --- |
| Payment Options | PayPal, Bitcoin, Credit Card |
| Protocols | PPTP, L2TP, SSTP, OpenVPN, IPSec |
| Encryption | 128 / 256 bit |
| Price | from $6.67 |
| Clients | Windows, Android, iOS, Mac, Linux |
| Money Back | 30 Days Money Back Guarantee |
| Logfiles | No |
| Company Location | British Virgin Islands |
| Servers | 1500+ |
| Countries | 94 |
| IPs | 15.000+ |
| Traffic-Limit | unlimited |
| Filesharing | allowed |
| Best Use | Anonymous Surfing Filesharing / Bittorrent Remote Access Unblocking Video Streaming Unblocking Websites |
ExpressVPN offers a fast, secure and relatively low cost virtual private networking (VPN) service that is ideal for Internet users seeking anonymity on the web. Although they don't offer a free trial of the ExpressVPN plan, the company does provide a guaranteed 30-day money back period, so new customers can sign up with confidence.

About ExpressVPN
The ExpressVPN servers are located in 94 different countries around the world, so this truly is a plan that will unblock sites and services across the whole globe. Customers will find that ExpressVPN does make recommendations on the best servers to use from different locations, which are likely to provide fastest speeds, however, it's still possible to choose required servers and change location at any time.
They have servers located in these countries: Spain, Costa Rica, Austria, Latvia, Sweden, Colombia, Philippines, South Africa, Italy, Liechtenstein, Cyprus, Albania, Greece, Slovakia, Malaysia, Switzerland, Uruguay, Canada, Taiwan, Israel, Ireland, Belgium, Isle of Man, Ukraine, Australia, Lithuania, Norway, Mexico, Kyrgyzstan, Argentina, Bosnia Herzegovina, Vietnam, Bulgaria, Estonia, Czech Republic, Japan, Hong Kong, Serbia, UK, Romania, Poland, Guatemala, Egypt, Brazil, Panama, Hungary, Iceland, Croatia, Uzbekistan, France, Finland, USA, Kazakhstan, Thailand, Mongolia, Peru, India, Malta, Bahamas, Turkey, Moldova, South Korea, Chile, Russia, Algeria, Ecuador, Georgia, Slovenia, Germany, New Zealand, Indonesia, Netherlands, Portugal, Singapore, Luxembourg, Azerbaijan, Venezuela and Denmark.
ExpressVPNs servers have been audited in 2019 by PwC to confirm compliance with privacy policy.
Pricing
Today's Deal:
Save 49%! — Take 12 months and get 3 months free! ($6.67 per month only)
Click here!
Signing up for a plan with ExpressVPN is just a simple matter of providing an email address and making payment for the relevant price plan and once this has been completed new customers receive a welcome email with download details. It is considerably cheaper to sign up for the VPN over a longer period of time, however new customers may want to trial out the service for a month first. ExpressVPN also supports Bitcoin which is adopted by more and more merchants worldwide. It also has a strong base for gamblers in the Bitcoin Casino and gambling world which can be found on sites like http://www.bestbitcoincasinos.net/. Especially since the US cracks down on most regular online casinos – bitcoins become more and more popular.
OpenVPN is the default protocol on ExpressVPN, although customers can change this if required. Customers will find this VPN is compatible with all devices and the monthly price plan allows 5 simultaneous connections. Customers who frequently access the Internet from mobile devices in WiFi hotspots will find this a very useful facility as these hotspots are notoriously insecure.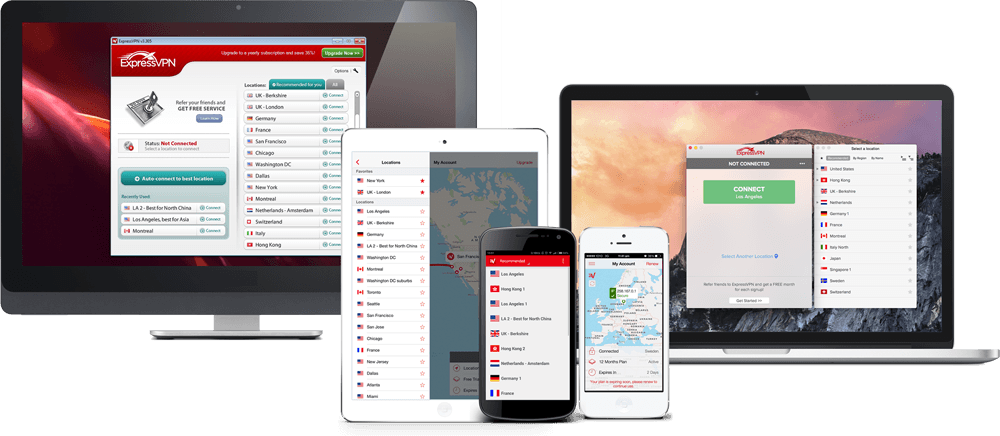 How it works
New customers will find ExpressVPN easy to use, with a simple interface and apps for every device, so no technical expertise is required to download the service. Independent reviewers have speed tested the ExpressVPN service on a number of devices and from different server locations, they all confirm this is a very speedy provider that does just what it promises.
ExpressVPN is easy to set up, no great computer knowledge required. Just download their VPN software and install it on your Desktop or Notebook and you're almost ready to go. Chose a server from your desired country and get connected. It's really that easy.
If you want to use this service on your smartphone, you don't have to worry about configuration within your phones options. ExpressVPN offers free Apps for Android and iOS devices so you have a great chance to get one of the best VPN apps that will make it pretty simple to connect through a Virtual Private Network anywhere in the world.
When it comes to customer support, ExpressVPN is very reliable and provides an online chat service which is open 24/7 and an email contact form, customers should receive a response to email queries within a couple of hours. The live chat support desk workers are helpful and knowledgeable and should be able to resolve any queries or problems immediately.
You can chose between three payment plans. The longer you chose to pay in advance, the better your deal for this service gets. Paying only one month in advance is quite pricey, but keeping in mind that this provider is one of the best – if not the best at the moment – the price is appropriate. If you chose to take the 6 month or even the 1 year plan, you can save up to $4.63 per month, thats $55.56 per year.
Real Anonymity
ExpressVPN takes customer privacy and security very seriously and is based in the British Virgin Isles, so US and EU data retention laws are not applicable.
Where customers wish to remain totally anonymous it's possible to set up an account using Bitcoins, so there is not even a need to give personal details of any kind. With the possibility of Bitcoin payment combined with a renunciation of logfiles, it is possible to gain real anonymity. ExpressVPN is one of the few providers that meets these criteria. By gaining an anonymous email adress in the first place, ordering ExpressVPN services can be done absolutely anonymous.
The provider does not keep traffic logs at all and all customers are provided with shared IP addresses from servers, which means it's impossible for any one customer's activity to be traced or tracked back. Any consumer having concerns about hacking and eavesdropping on the Internet is recommended to try out ExpressVPN and it's particularly useful in WiFi hotspots or when customers are travelling and need to access the Internet while on the move or gain access to blocked media streaming websites or channels.
Also, if a customer is interested in filesharing, connecting with ExpressVPN seems to be a safe way to gain real anonymity and therefore minimizing the risk of getting caught for something that may be not legal in every country.
Internet consumers looking for total anonymity and security while browsing the net will find this provider has an excellent reputation. It may not be the cheapest VPN provider on the market but it does everything that is needed with remarkably little fuss and with a simplicity that is not available from all VPN providers. Consumers who have never used VPN in the past will find this is a simple service to set up, with a reliability that is consistent and excellent security and encryption levels at all times.
Go to expressvpn.com