StrongVPN Review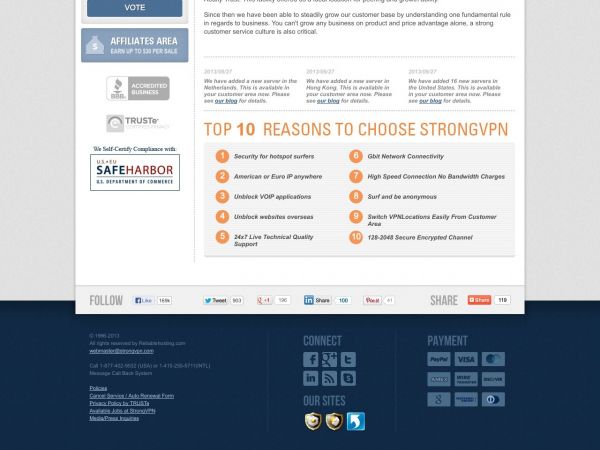 | | |
| --- | --- |
| Clients | Windows, Mac OS, Linux, iOS, Android |
| Countries | 22 Countries |
| Filesharing | allowed |
| Logfiles | No |
| Money Back | 5 Days Money Back Guarantee |
| Payment Options | Credit Card, Paypal, Google Checkout, Check, Order Check |
| Protocols | PPTP, OpenVPN |
| Servers | 458 VPN Servers |
| Traffic-Limit | No Limit |
| Price | from $ 5.83 |
| Company Location | USA |
| Encryption | 128-Bit, up to 2048-Bit |
| Best Use | Remote Access Unblocking Video Streaming Unblocking Websites Filesharing |
| IPs | 87,000+ IPs |
About Strong VPN
StrongVPN is based out of San Francisco, California, with a presence in cities like New York and Washington DC. Originally founded in 1994 as a computer retailer, the company has grown into a VPN provider since the turn of the millennium, with the majority of its core team having been in place since 1995. Today, StrongVPN is one of the most high profile and widely used VPN services in the world, offering its users extra privacy when browsing and a way of circumventing geo-restricted content. It is also notable for being one of the best VPN providers for Chinese users.
How it Works
Upon completing the registration and setup process, users are given access to the StrongVPN system, from which they are assigned a new IP address, changing the online footprint they leave behind and effectively making them anonymous. Additionally, all internet traffic is encrypted in order to further protect privacy.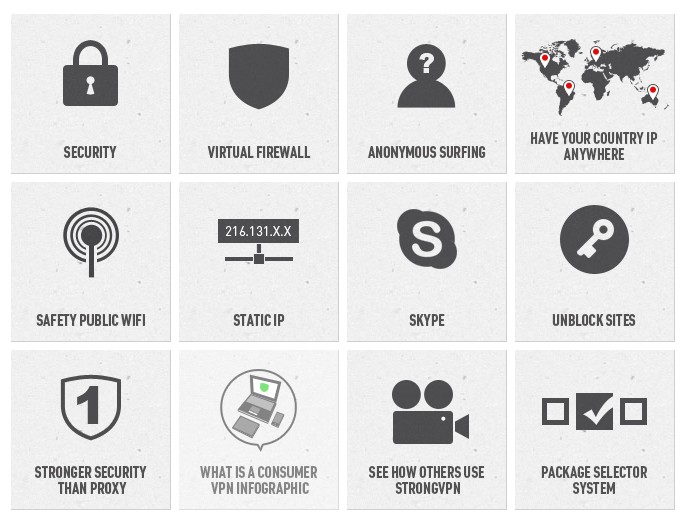 StrongVPN provides the PPTP protocol, which is perfectly adequate for unblocking geo-restricted or censored content, but is less secure than other protocols.
Users also have access to OpenVPN, which offers far more comprehensive levels of privacy. StrongVPN's services can be used on a PC using Windows or Linux, on Macs, and on mobile phones using either the Android or iOS operating systems. The setup process on all devices is simple, although a substantial amount of personal information is requested. At present, Blackberry, Kindle and Windows Phone devices are not supported.
StrongVPN Servers around the world:
Germany, France, Great Britain, Hong Kong, Italy, Japan, Latvia, Luxembourg, Malaysia, Netherlands, Norway, Romania, Russia, Sweden, Switzerland, Singapore, Turkey and United States.

Pricing
In terms of price, StrongVPN's package which includes all services, can be bought for $ 10 per month or yearly for $ 69.99. StrongVPN used to have a fairly complicated price structure in the past but fortunately they simplified their offers to basically this one package you can eather have monthly or per year with a fair discount.
Privacy and Security
StrongVPN used to have a level of privacy and security which raised some question marks. In 2016 they finally changed their policy to "no logfiles at all". For its part, the company states that it does not monitor or record logs of any user's activity when using the service, including website visits or downloaded files. However, as previously mentioned, there are security issues with PPTP.
For those seeking the highest level of anonymous browsing and security from snooping, the basic fact that the company is located in the United States is a potential red flag, due to the country's laws on internet data retention. Formerly, the company had developed a reputation for taking a hard stance against the downloading of copyrighted data by responding harshly to DRM complaints and blocking users. But this seems to be past with the new zero-logs policy. So if you want to watch VR Pornos or communicate freely with your friends and family, StrongVPN is great, furthermore you are also allowed to share files since right now.
While the moral issue of illegal downloads can be debated, the fact remains that users can be blocked, based on what they download, by a service which intends to provide protection from snooping. That fact alone raises some concerns over the true level of privacy and anonymity offered.
The Client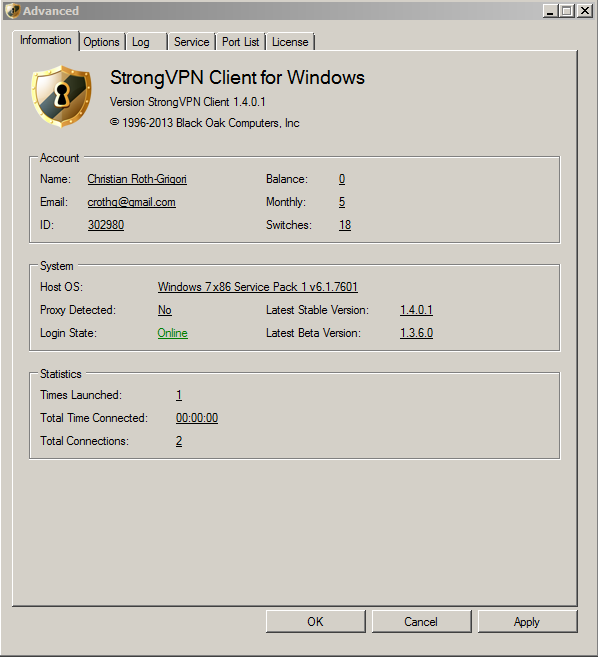 The software client is easy to use. It shows all personal information at a glance and you can choose easily every IP location you need. Just connect or disconnect with the button after the selection of your settings.
Support
On the other hand, one of the service's biggest plus points is the sheer level of customer service it provides to users. As a result, help and support is never far away and any issues a customer encounters or queries they raise can be resolved quickly. StrongVPN.com offers a live chat service, which operates 24 hours a day, seven days a week. Furthermore, assistance is available via telephone, an online forum located on the website, and directly with a member of the customer support team through Skype.
Pros and Cons
Pro StrongVPN:
+ Provides good connection speeds and is successful at allowing users to access blocked and restricted content.
+ User interface is excellent and the customer support options available are superb.
+ One of the best VPN providers available for users in China.
Contra StrongVPN:
– Company is based in the US
– Service is expensive when compared with some other VPN providers and the most basic package is quite limited.
Conclusion StrongVPN's service is suitable for almost any task and the speeds associated with the network are quick. It's not recommended for simple geo-blocking, as you can have that with a SmartDNS service for a much cheaper price. Furthermore, concerning anonymity, don't forget that the service is US-based and you never know how this might cause changes in the privacy policy quickly when they get forced by law.
The user interface is slick and easy to operate, while StrongVPN's customer support is a major plus point over various other services. Nevertheless, if users intend to use a VPN to download copyrighted material, StrongVPN's policy of blocking users is likely to make it unsuitable for the task.
Go to strongvpn.com