Unblock & Watch House of Cards Anywhere Free Online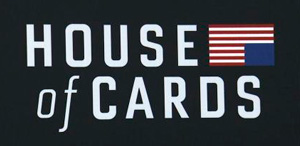 Netflix takes pride in broadcasting some exceptional series, one of which is definitely House of Cards. Kevin Spacey and Robin Wright compose a successful and ruthless couple, trying to move their way up the ladder of US Congress. Whoever stands in the way is potentially an enemy and thus he should be eliminated, when everything else fails. This is the main plot of House of Cards, a series that has received superb acclaim universally and is rated 9.1 on Imdb.Three seasons have already been completed and can be found on Netflix, while the fourth season is being prepared for 2016.
As a production of Netflix, the copyright restrictions apply to other channels and websites internationally. This means that only subscribers to Netflix can enjoy the premium content that is offered in the countries where Netflix is available. The original version of Netflix is none other than the US version, while there are also various other versions applicable to countries such as the UK, Latin America and Canada.
If you are wondering why this is the case, there are limitations applied by the people holding the rights of film industry. Since House of Cards is a form of intellectual property, it goes without even saying that it involves limitations as to where it should be broadcast. With the use of GEO-IP software, all other IPs that cannot comply with the limitations will be rejected access to Netflix and thus House of Cards.
Luckily enough, there are some ways that offer you the chance to bypass such restrictions and allow you to watch House of Cards internationally – regardless of your physical location. Let's have a look and sort these things out, shall we?
How to Unblock House of Cards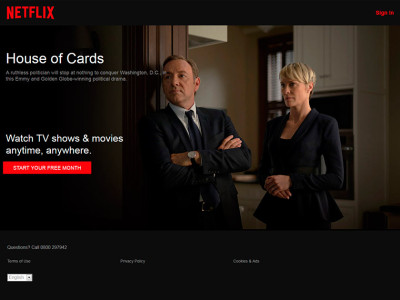 As mentioned earlier, your IP address determines whether or not you will be given access to Netflix (we will be concentrating on the US version of Netflix, which is the full and original version). So, the trick lies in changing your IP address respectively. Do not think that this is something that cannot happen; on the other hand, as you will be able to read below, there are two major methods that lead to unblocking geographically restricted websites and channels: VPN and SmartDNS.
VPN: The VPN is a system consisting of remotely located servers, which offers access to their IP addresses. In this way, through the redirection of your traffic to the respective server that covers your needs at the time, you succeed in changing your IP address. So, since you wish to access Netflix, you will need a US based server to provide you with what you want. It is important to highlight the fact that there is encryption involved in the use of VPN. As a consequence, there is greater safety guaranteed.
SmartDNS: Unlike VPN, there is no encryption involved with the selection of SmartDNS services. However, this does not mean that this option is not reliable. Instead, the lack of encryption means that you get premium speed that cannot be compared to none and you get it at a much lower price rate. In this case, we have got unblocked channels and websites displayed at the SmartDNS services. You get to choose what you want to unblock and you do not have to change your IP address for all your online activities – just for the ones you feel like it.
VPN vs SmartDNS
Now that we have outlined both these methods, it is needless to state that both of them come bearing advantages and disadvantages. VPN provides a complete solution that not only unblocks websites and channels, but also offers encryption that makes web surfing thoroughly protected. SmartDNS offers a trustworthy solution without encryption, which unblocks a wide number of channels and websites internationally (Netflix included, of course). It is lower as far as cost is concerned, with exceptionally easy setup on every device and OS (meaning not only Windows, Mac, Linux, but also iOS running devices and Androids, gaming consoles like Xbox360 and One, PS3 and PS4, smart TVs and set-top boxes, like Roku or Boxee Box etc.).
Pro Trick: If you are only abroad for less than a month – we recommend you to get a VPN with 30 days money back guarantee like Express VPN. This way, if you do not need the VPN after your trip – you can just cancel it and get a full refund. VPN for Free 🙂
According to your needs, you can have your pick and see what outweighs what in the end; is privacy more important than speed and is the cost such a definitive factor in your decision?
Here is a list with the top 3 VPN service providers and the 3 best SmartDNS services available nowadays:
Top 3 VPN Provider to watch House of Cards everywhere in the world
Company Location: Panama
IPs: 5000+
Countries: 61+
Money Back Guarantee: 30 Days
Company Location: Romania
Countries: 23 Countries
Money Back Guarantee: No
Company Location: Switzerland
IPs: 200.000+ IPs
Countries: 48 Countries
Money Back Guarantee: 30 Days
Top 3 SmartDNS Provider to watch House of Cards everywhere in the world
Countries: USA, Canada, UK, France, Australia, Switzerland, Japan, Germany, Hong Kong, Egypt, New Zealand, India, Swedem. UAE
Money Back Guarantee: 30 Days
Devices: 27
Money Back Guarantee:
Devices: 27

Money Back Guarantee: 3 Days
Devices: 0
Before we leave you, it is crucial to underline the need to get a US Netflix account, prior to watching your preferred Netflix content (like House of Cards). Have a look here and see all the details that are necessary, in order to obtain a Netflix account – in case you do not already have one, that is it!