HidemyAss Review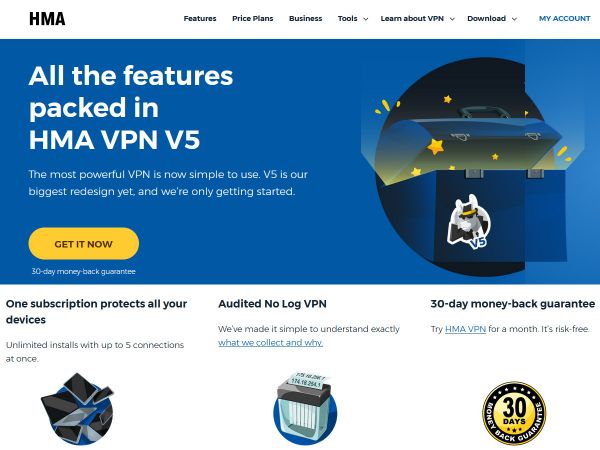 | | |
| --- | --- |
| Company Location | UK |
| Countries | 190 Countries |
| IPs | 120,000 IPs |
| Servers | 1100 VPN Servers |
| Logfiles | Yes (anonymous connection logs) |
| Protocols | OpenVPN, PPTP, L2TP |
| Traffic-Limit | No Limit |
| Filesharing | allowed |
| Money Back | 30 Days Money-Back-Guarantee |
| Payment Options | Credit Card, PayPal |
| Clients | Mac, Windows, Linux, iOS, Android, Router, Apple TV, Android Smart TV |
| Encryption | AES-256-GCM |
| Fastest_Upload | 5.74 Mbps |
| Fastest_Download | 33.42 Mbps |
| Pingtime | 33 ms |
| Price | from $2.79 |
| Connections | 2 Simultaneous Connections |
| Best Use | Remote Access Unblocking Video Streaming Unblocking Websites |
About Hide my Ass VPN
Hide My Ass is a Virtual Private Network service owned by Privax Limited; a business based in the United Kingdom, with its main office located in London. Since arriving on the scene, it has emerged as one of the best-known VPN providers around, with a global reputation and servers located in more than 151 different countries.
The company campaigns strongly for a free internet, which can be used anonymously. In addition to their VPN service, Hide My Ass provide a number of other privacy tools on their website, including a free web-based proxy. However, their VPN service is by far the most secure and robust service on offer.
How it Works
Like other VPN providers, Hide My Ass offers its users privacy, anonymity and added security while online. The first step towards achieving this is the installation of specialist client software onto the device being used to browse the internet. Services like HMA are used to access adult sites, unblock geo-blocked streaming sites or to play games like virtual slots with cryptocurrencies.
By using the service, customers are able to have their data encrypted, shielding it from prying eyes, including hackers, scammers and even ISPs. Furthermore, users are able to connect to one of the many Hide My Ass servers around the world, receiving a new IP address and altering their internet location in the process.
HidemyAss VPN Servers around the world:
Norfolk Island, New Caledonia, Bahrain, Saudi Arabia, Botswana, Cote d`Ivoire, Taiwan, Argentina, Saint Helena, Thailand, Japan, Denmark, Christmas Island, Bosnia, Moldova, Turkey, Tokelau, , Honduras, Malaysia, Trinidad and Tobago, Guyana, Serbia, Italy, Barbados, Macedonia, Slovakia, Cayman Islands, Jamaica, Bulgaria, Mexico, Morocco, Malta, Norway, Saint Kitts and Nevis, North America, Cuba, Europe, Indonesia, Bolivia, Romania, Slovenia, Poland, Sweden, Vietnam, Estonia, Palestine, Nigeria, Costa Rica, Burkina Faso, Belgium, Niue, Dominican Republic, Finland, Albania, Uruguay, Gabon, South Korea, Georgia, Belize, Aruba, Croatia, Cameroon, Saint Pierre and Miquelon, Aland Islands, Greece, Greenland, Macau, United Kingdom, Anguilla, Rwanda, Nicaragua, Montserrat, Kenya, United Arab Emirates, Lebanon, Brasil, Hungary, Saint Lucia, Pakistan, Guatemala, Suriname, India, Yemen, Afghanistan, Brunei, Myanmar, Grenada, Saint Vincent and the Grenadines, Canada, Kiribati, Netherlands, Germany, Ghana, Hong Kong, Antigua and Barbuda, Russia, Singapore, Ecuador, Paraguay, Iraq, Haiti, Oceania, United States, Ireland, Bermuda, Spain, Peru, Bangladesh, El Salvador, Turks and Caicos Islands, France, Czech Republic, Guinea, Jordan, Syria, Israel, Cyprus, New Zealand, Bahamas, Venezuela, Colombia, Portugal, Iceland, Palau, Pitcairn Islands, Uganda, Latvia, Belarus, Panama, Benin, Chile, Seychelles, Philippines, Dominica, Cook Islands, Austria, Oman, Faroe Islands, Namibia, Australia, Vanuatu, Qatar, Ukraine, Switzerland, Falkland Islands, Luxembourg, Kuwait, Montenegro, Lithuania, British Virgin Islands, China. Thats a big VPN List.
The main benefits include the ability to remain anonymous and impossible to identify online, the ability to get around internet censorship in certain parts of the world and the ability to access geo-restricted content, including streaming video services like the BBC iPlayer or Netflix USA.
HidemyAss Prices and Offers:
At present, there is one main Hide My Ass VPN product, which users can subscribe to for different lengths of time. As is the case with many of their competitors, customers are offered a discount price as an incentive to sign up for the longer time periods.
The subscription lengths available are one month, six months and one year. The one month service works out as $11.52 per month, a six month subscription costs $8.33 per month and the one year duration amounts to $6.55 per month. Therefore, anyone using the service long-term should commit for one year in order to minimise cost.
Many sites rate HidemyAss under the best VPN Services available – if you arent too concerned with your privacy, as the example of the Lulzsec Hacker "Sabu" shows. Its perfect for geoblocking, streaming and also filesharing – if you want nothing more, you get one of the best VPN clients with a extremely large Server network with HidemyAss VPN.
Privacy and Security with HMA:
From a technical standpoint, Hide My Ass provides an excellent level of security, offering support for 256-bit OpenVPN and L2TP encryption protocols, as well as 128-bit PTPP encryption. Moreover, using the software, it is easy to switch between the protocols, in order to suit different needs.
Unfortunately, the privacy aspect of the service does not stand up to the same scrutiny, due in part to the company's status as a UK business. As a result, Hide My Ass is subject to Britain's strict data retention laws, meaning that other VPN providers can offer greater legal protection to customers.
Individual website visits are not monitored or recorded. Yet, according to their website, the company logs a fairly sizeable amount of user data, including IP addresses, connection times and data transmissions, for up to three months. This data is not shared with third parties, but will be handed over to the authorities upon request.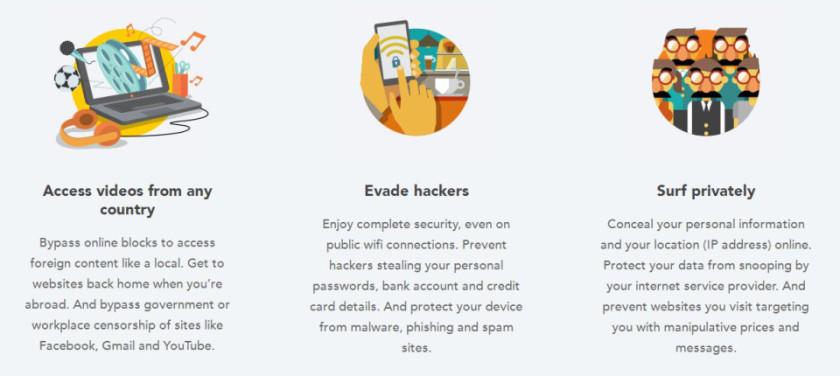 Support
A range of different customer support options are available, allowing customers to get in contact if they require assistance. These contact methods include an email address and a live chat function on the website. Additionally, telephone support is available between 9am and 5pm UK time, allowing for instant contact.
Unfortunately, customer support is not currently available 24 hours a day, although the company strive to answer any queries as soon as possible. However, due to the fact that it works according to UK office hours, customers located outside of the country may find that they experience fairly significant delays in receiving help.
The Client
HMA Review: The Pros and Cons of HidemyAss
HideMyAss is one of the leading internet security and privacy businesses around today. Based out of the United Kingdom, the company has developed a strong reputation off the back of releasing a number of products designed to keep users safe and anonymous when online.
Their main product is a Virtual Private Network service, which is designed to protect customers from malicious threats, as well as offer them complete privacy. The VPN prohibits snooping and tracking, obscures its customers' IP addresses and can be used to secure public wi-fi. It is also a method of circumventing online censorship.
However, the product is not without its flaws and this article looks at both the pros and cons of HideMyAss.
The Pros of HidemyAss

One of the major plus points of the HideMyAss product is its overall presentation. The company website is detailed and professional, yet easily accessible and it contains a range of different support options. The client software itself is also excellent and is compatible with all major operating systems.
In terms of encryption methods, the product offers a solid range of options, including support for the L2TP/IPSec, PPTP and OpenVPN protocols. The OpenVPN protocol, in particular, offers superb security for users and helps to keep them safe from a number of potential threats.
HideMyAss also has a number of other positives, including its 30 day money back guarantee, which effectively allows customers to try before they buy, its simple signup process and its vast number of servers. In fact, the service gives access to close to 600 different servers, in dozens of countries all around the world.
+ Pro HMA:
+ More than 116,800 IP addreses in over 193 different countries, offering a huge range of choice.
+ All of the major security protocols are supported, with the ability to switch between them easily.
+ Users are able to connect to the Hide My Ass network on multiple devices at the same time.
The Cons of HidemyAss

Nevertheless, HideMyAss its problems and chief amongst them is a rather major security concern. Due to the fact that the company is based in the United Kingdom, it is subject to UK legislation covering internet data retention. This means that some logs of user data are kept and can be passed to the authorities upon request.
Although it is a security concern which is unlikely to have serious consequences for most users, it is something which needs to be taken into consideration. For example, in 2011, HideMyAss were reported to have cooperated with an investigation into hacking, passing data logs of the suspect's usage over to the FBI.
The price of the product is also towards the expensive end of the market. It would be misleading to suggest that it does not offer value for money, as a number of additional features are included, such as a free proxy service and an anonymous email service. That said, for customers purely interested in VPN, the price may be off-putting.
– Contra HMA:
Conclusion
With the range of features, number of servers and additional freebies, it is easy to see how Hide My Ass has become one of the most recognised VPN providers in the world. Overall, the service offered is of a very high standard and represents good value for money, when compared to similar products.
However, its base in the United Kingdom means it is subject to fairly strict internet data laws. The company's policy of logging user activity, and sharing this information with the authorities upon request, means that it is not an ideal VPN for people with a desire for absolute anonymity.
Go to hidemyass.com