IP Vanish VPN Review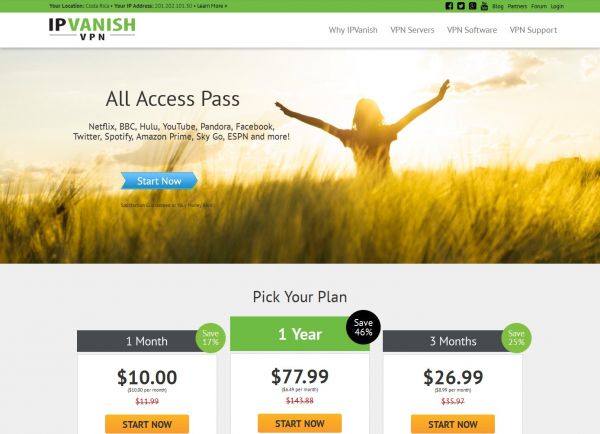 | | |
| --- | --- |
| Company Location | USA |
| Countries | 60+ Countries |
| Servers | 500+ VPN Servers |
| IPs | 40,000+ IPs |
| Clients | Mac OS, Windows, Linux, iOS, Android |
| Logfiles | No Logfiles! |
| Protocols | OpenSSL library, PPTP, L2TP |
| Money Back | 7 Days Money Back Guarantee |
| Payment Options | Paypal, Credit Card, Bitcoin |
| Traffic-Limit | No Limit |
| Filesharing | allowed |
| Price | from $ 6.49 |
| Connections | 2 Simultaneous Connections |
| Brandname | IP Vanish |
| Best Use | Filesharing / Bittorrent Remote Access Unblocking Video Streaming Unblocking Websites |
| Encryption | OpenSSL Library (OpenVPN), MPPE (PPTP), RFC 4835 (L2TP) |
Update: IPVanish lied about their logging policies. You can read everything about it in this article. We do not recommend to use them anymore, even though they say that "now" they do not keep logifiles – why should you trust a brand which was lying in the past. There are tons of other providers, choose one of them.
About  the VPN service of  IpVanish
IPVanish is a VPN provider based in the United States. The company started its operations in 2012 and has introduced many servers ever since. Today, it is considered one of the biggest VPN providers in the world, thanks to its numerous servers across the globe. Currently, IPVanish.com has over 325 servers in different countries in the world. The company boasts of 15 years of experience in the field of network management, as well as content and IP services. At IPVanishReview you can see all servers.

Packages Offered by IPVanish
IPVanish offers its customers only one type of package for different durations. Each account is valid by the duration of services the customer wants to avail. The lengths of the packages are as follows:
One month package for US$10 per month
Three-month package for US$26.99)
One year package for US$77.99
First-time shoppers are given a 25 % discount on their first billing cycle and the standard rates mentioned above are applicable, thereafter.
All packages come with the IPVanish proprietary software and NAT firewall, and do not require logging on to the software. In addition, the packages offer Wi-Fi hotspot protection along with unlimited VPN use. There are over 14,000 IPs customers can use. Consumers can avail VOIP support and also enjoy access to over 110 servers, which are located in 60 different countries. Each package is backed by a seven-day money back guarantee.

Customers can use the standard protocol systems, namely PPTP, Open VPN, and L2TP. The software can be configured to a range of operating systems and devices, including Windows, Mac OSX, Android, iOS, Chromebook, Ubuntu and routers. For most major operating systems, the software uses the GUI interface. This is a plus point, as those who are not technically inclined will find the graphics and the one-click option extremely useful and handy.
Users can use PayPal or an array of credit cards, including MasterCard, Visa and American Express, to make the payment for the package.
Ipvanish VPN Servers around the world:
Argentina, Australia, Belgium, Brazil, Bulgaria, Costa Rica, Denmark, Germany, Estonia, Finland, France, Greece, Great Britain, Hong Kong, India, Indonesia, Ireland, Iceland, Italy, Japan, Canada, Croatia, Latvia, Lithuania, Luxembourg, Malaysia, Mexico, Moldova, New Zealand, Netherlands, Norway, Austria, Panama, Poland, Portugal, Romania, Russia, Saudi Arabia, Sweden, Switzerland, Singapore, Slovakia, Spain, South Africa, South Korea, Thailand, Turkey, Ukraine and the United States.
The IPVanish Website at a Glance
The IPVanish website is aesthetically pleasing and has a rather interesting look when compared to many similar service providers. Some of the necessary information customers require is available on the homepage. This includes location of the servers, VPN features offered, and the devices and operating systems that are compatible with the IPVanish software.
The homepage makes good use of white spaces and does not put in a lot of content into a single page. This makes it easy to scroll down vertically to access the information listed on the page.

What Makes IPVanish Unique?
There are many reasons why IPVanish.com has carved a niche for itself in the world of VPN service providers.
No Logfiles! A few months ago, IPVanish deciced (after the ruling of the european court) not to record any logfiles. Not even provider logs and of course no traffic logs. Thats an awesome feature.
That was a complete lie.
The Software: The software is rather easy to use and takes just a single click to connect. It also informs customers when a particular server is not there for use. The unavailable server is marked by a down flag and relegated to the bottom of the listing. This saves time as users don't have to check the IPVanish website to get a list of available servers. The website shows the whole Server list of IPVanish.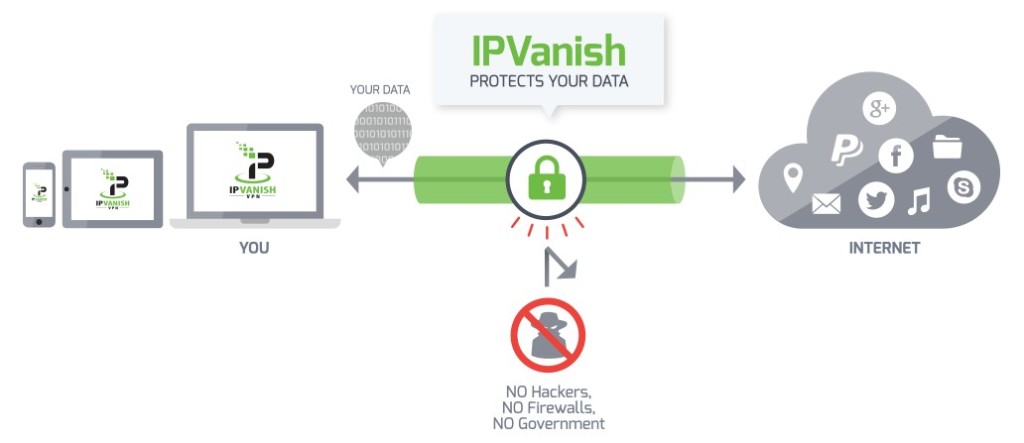 Server Speed: Regardless of where the IPVanish servers are located, users can expect great speeds. When using the service to watch films online, there are no worries about buffering and frozen images. As a result, customers will certainly not find an issue while downloading as well as browsing. The servers located close to the actual location of the customers are bound to have outstanding speeds, but even those in far-flung places have great speeds that cannot be faulted with.
Considering the cost of each package IPVanish.com offers, it can be categorised among the medium-price range VPN service providers. The fact that customers can access over 180 servers and more than 25,000 IPs, IPVanish offers great value for money. Customers who want to use this service for just TV streaming may feel they are paying a little too much, as they may not use all the available servers. For such customers, IPVanish should think of adding another package that is more suitable for customers, who use servers in just one or two locations.
The software:
When it comes to the software, it is customised and made for a range of devices and operating systems. Overall, buyers will find the software intuitive and easy to use, especially those who are technically challenged. The installation guides under the VPN Software tab offer easy and step-by-step instructions on how to configure the software to the chosen operating system or device.
IPVanish Customer Support:
Customers can access help via Live Chat and email. It is refreshing to have a VPN provider that really responds quickly through email. Live chat is available between 9 am and 5 pm EST and this is definitely a plus point if customers want quick clarifications during these timings.
Conclusion
Overall, IPVanish offers all the necessary elements VPN customers generally look for. The big plus of IPVanish is: They do not record any logfiles! That really seperates them from the other "anonymous" VPN Services. It comes across as a professional company that certainly values customer service.
Update: IPVanish lied about their logging policies. You can read everything about it in this article. We do not recommend to use them anymore, even though they say that "now" they do not keep logifiles – why should you trust a brand which was lying in the past. There are tons of other providers, choose one of them.
Go to ipvanish.com