VPNTunnel Review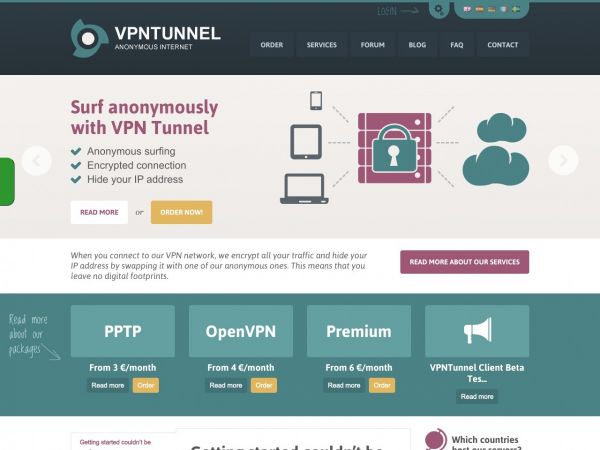 | | |
| --- | --- |
| Clients | Windows, Mac OS, Linux, iOS, Android |
| Countries | 5 Countries |
| Filesharing | allowed |
| Logfiles | No Logfiles! |
| Money Back | No |
| Payment Options | Paypal, Payson |
| Protocols | PPTP, OpenVPN |
| Traffic-Limit | No Limit |
| Price | from 3.71€ |
| Best Use | It's recommended not to use it at all |
| Company Location | Sweden |
| Encryption | 128-Bit, 2048-Bit (OpenVPN) |
Warning: VPNTunnel seems to have changed its owner – or at least its jurisdiction. Since then more and more users complain about having paid for a subscription but the service didnt work – or just a few days until they couldnt log in. The support doesnt seem to answer to their mails. Also there are reports of VPNTunnel affiliates that their payments have been deleted without notice – and the support also doesnt answer. We also tried to contact VPNTunnel – but we got no answer as well. Sad story – it has been a nice VPN Service. We recommend to use IPVanish, HidemyAss or PureVPN instead now.
About VPN Tunnel
Owned by Swedish company Netalia AB and based in Stockholm, Sweden, VPN Tunnel has provided Virtual Private Networking services since 2008. Although it has grown rapidly in that time, at the moment, the service is still focused on the European market, with ambitions to expand globally in the near future.

VPN Tunnel markets itself as a service for anonymous internet browsing and a method of unblocking geo-restricted content. Additionally, VPN Tunnel claims Sweden's laws on data retention ensure that they can guarantee a service, where no logs of users' internet activity are kept.
How it Works
VPN Tunnel requires users to sign up and pay before using the service. If users opt for the PPTP package, they will not be required to install any extra software, but the more secure and advanced OpenVPN service will require the installation of specialist software in order to connect to the servers.

After signing up and logging in, customers will be able to utilise an IP address owned by VPN Tunnel, effectively meaning the user cannot be identified or traced online. Furthermore, their internet activity, including HTTP, P2P and FTP, will all be encrypted, offering protection against numerous security threats.
The level of encryption used by VPN Tunnel varies, depending upon the service a user signs up for. Users are also given a new IP address every time they log in to the service, ensuring that they always remain anonymous.
Pricing
As far as VPN providers go, VPN Tunnel has a fairly in-depth pricing strategy, providing customers with a range of different options. To start with, users have a choice between the basic PPTP encryption service, the more advanced OpenVPN encryption service or the Premium package, which contains both PPTP and OpenVPN protocols.

Users who wish to use the service on a smartphone or tablet need to either sign up for the PPTP or Premium service, as OpenVPN encryption is not supported on those devices. The benefit of the Premium package is that it allows users to run VPN Tunnel on multiple devices at the same time. The PPTP package starts at €3 per month, the OpenVPN package starts at €4 per month and the Premium package starts at €6 per month.
There is currently no free trial on offer, while the money back guarantee policy only covers technical faults with the service, which can reasonably be attributed to VPN Tunnel. This is a potential negative when compared to other VPN providers, who offer trials or more comprehensive money back guarantees, allowing users to try before they buy.
Privacy and Security
VPN Tunnel currently supports PPTP and OpenVPN encryption, although which encryption services are available to customers will depend upon which package they have purchased. PPTP has 128-bit encryption, while OpenVPN is considered more secure and has 2048-bit encryption, guaranteeing optimum online safety.

The company's privacy policy only guarantees that there will be no logging of user data on the Swedish servers, which are protected by Sweden's internet laws. However, at present, VPN Tunnel also insist they do not monitor or record internet activity or data on servers in the Netherlands, Germany, Luxembourg, Romania or Russia either.
Having said that, as the company expands, users would be advised to check up on whether or not particular servers in other countries are protected by this 'no logging' policy. According to the terms of service, other servers could potentially be subject to a 30 days data retention policy.
For a serious speed comparison of VPNTunnel and other VPN Services, take a look at www.fastestvpn.org .
Support
In comparison to some other VPN providers, VPN Tunnel offers a decent level of customer support, with a live chat function on the website giving customers access to direct, instant help and support if necessary.
Moreover, email support and a contact form can be found on the website, an online forum allows users to ask questions and read answers, while there is a fairly basic FAQ section, which will answer the most basic of queries.
Pros and Cons
Pro VPNTunnel:
+ Prices are extremely competitive and there are a number of different pricing options available.
+ The company guarantee that no logs are kept when users are connected to the Swedish servers.
+ Easy to use, solid internet speeds and a good level of customer support.
Contra VPNTunnel:
– No free trial and only a limited money back guarantee, meaning users must pay before trying the service.
– IP and timestamp logs may potentially be kept if users connect to some of the non-Swedish servers.
– At present, VPN Tunnel servers are only located in a small number of European countries.
Conclusion
Overall, VPN Tunnel is a solid, easy-to-use and promising VPN provider, which is competitively priced and offers decent internet speeds and excellent service for customers in Europe.
However, due to the fact that the service is still expanding, servers are only located in a small number of European countries, meaning it is of little use to people wishing to access geo-restricted services and content from elsewhere.
In addition, while the company strive to maintain customer privacy and do not keep logs on their Swedish servers, the privacy policy has been left open to allow for some logging on servers in other countries.
Go to vpntunnel.com