SmallVPN Review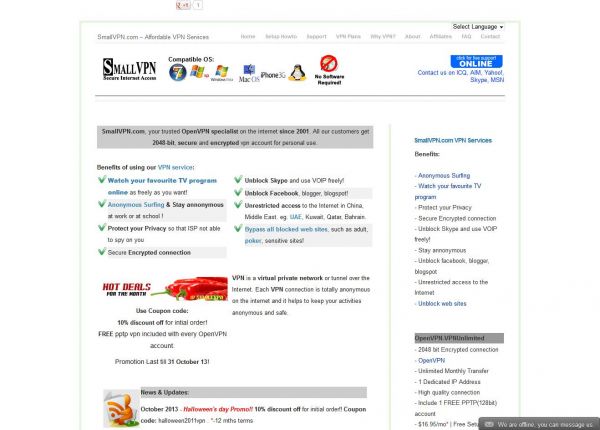 | | |
| --- | --- |
| Clients | Windows, Mac OS, Linux, iOS |
| Filesharing | allowed |
| Logfiles | No Logfiles! |
| Money Back | 15 Days Money Back Guarantee |
| Payment Options | Credit Card, Debit Card, Paypal, Moneybookers, RBS Worldpay |
| Protocols | OpenVPN, PPTP |
| Traffic-Limit | No Limit |
| Price | from $ 16.95 |
| Countries | 14 Countries |
| Best Use | Remote Access Unblocking Video Streaming Unblocking Websites |
| Company Location | Singapore |
| Encryption | 2048-Bit (OpenVPN), 128-Bit (PPTP) |
About Small VPN
SmallVPN functions as a subdivision of Mxhub.com, a Singapore-based internet technology company, which has been in operation since 2001. The Virtual Private Network subdivision itself was launched in 2008 and has grown fairly rapidly into a global service, with servers and customers located all around the world.

At present, the company has servers located in more than a dozen different countries, crucially covering major areas like North America, Europe, Australia and Asia. SmallVPN is marketed primarily as an internet security product, as well as a means of unblocking geo-restricted or filtered content from just about anywhere.
How it Works
After registration, depending on the device being used, the installation of specialist software may be required. Following this process, users will have access to the SmallVPN network, which consists of multiple servers placed around the world. Connection to these servers works to essentially anonymise web users and change their recognised internet location by giving them a new IP address, owned by the service.
In addition, all web traffic, including browsing data, downloads and online communications are subject to high level encryption. This helps to protect customers from malicious threats, including hacking and surveillance and keep them secure while they are online, even when using public WiFi systems.
By using the SmallVPN service, users can unblock geo-restricted content, can bypass internet filters and can browse the internet anonymously, without the fear of being watched or monitored in any way.

SmallVPN Servers around the world:
Australia, Belgium, Germany, France, Great Britain, Hong Kong, Ireland, Italy, Japan, Canada, Netherlands, Spain, Sweden and the United States.
Pricing
One area where SmallVPN falls somewhat behind many of its rivals is through pricing. While the company's pricing system is perfectly fine, with an option to sign up on a monthy or yearly basis, offering a discount for the latter, the actual cost of the service itself is considerably more expensive than most other VPN providers.
At present, the company are charging $0.66 per day for the monthly option, which works out as approximately $20 per month. Although the yearly option is offered at a reduced price of $0.56 per day, this still amounts to around $17 per month, which is around three times the cost of the services offered by some of the VPN market leaders.
On top of that, for businesses and other more professional requirements, a Premium price plan is available, at an even higher cost, offering a range of additional benefits and extra options.
Privacy and Security
The service offers support for both OpenVPN and PPTP protocols, with 2048-bit encryption available for the former. This means that users have the option of very high levels of security and unlike some VPN providers, the encryption service offered here works well with most common online activities, including HTTP, FTP and VOIP.
Like all good VPN providers, SmallVPN have a robust privacy policy and insist on not keeping logs of customers' internet activity, including communications, website visits and downloads. That said, basic information such as login times and bandwidth use are kept for customer service and maintenance reasons.
Support
All things considered, SmallVPN offers some of the best customer support services on the VPN market, with a diverse choice of methods for customers to get in contact with the company in order to resolve issues or ask questions. The main method of contact is through a live chat system, which operates during usual office hours.
Alternatively, customers can use services like Skype to get in direct contact. When direct methods are unavailable, users still have multiple other choices, including email, a contact form on the main website and an online community. When compared to other VPN providers, this is a pretty large range of options.
Pros and Cons
Pro SmallVPN:
+ Numerous servers located in countries all around the world, making it ideal for bypasing geo-blocking.
+ No logs are kept of users' website visits, communications or file transfers.
+ Compatible with most operating systems, including Windows, Linux, Android, iOS and OSX.
+ No download limits and filesharing, including P2P transfer, is permitted on the SmallVPN servers.
Contra SmallVPN:
– The service is incredibly expensive, even when compared to the top VPN providers on the market.
– Some customers have reported problems with having their payment accepted.
– No free trial or comprehensive money back guarantee, meaning upfront payment is required.
Conclusion
SmallVPN successfully ticks most of the boxes you would want ticked when looking for a VPN service. The company offers severs all across the globe, does not keep logs of user data, allows filesharing, supports most operating systems and uses top of the range encryption technology, ensuring customers are kept secure and anonymous online.
However, the price of the service is a huge downside, with many top notch VPN providers charging less than half of the price for their services. Unfortunately the price, coupled with the lack of a free trial option, is likely to put many potential customers off, unless they are absolutely convinced it is the best service for their needs.
Go to smallvpn.com