GoTrusted VPN Review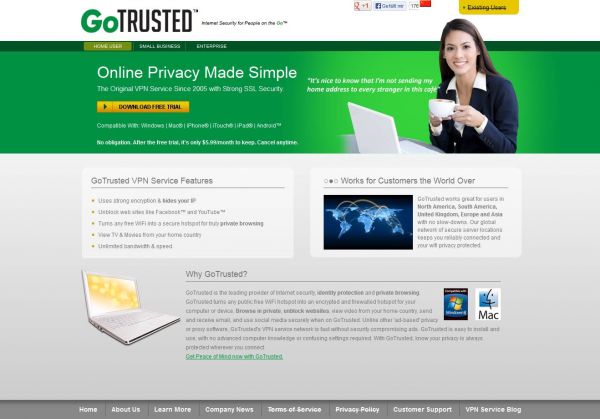 | | |
| --- | --- |
| Clients | Windows, Mac OS, Linux, iOS, Android |
| Company Location | USA |
| Countries | 7 Countries |
| Filesharing | allowed |
| Logfiles | Yes |
| Money Back | 7 Days Free Trial Account |
| Payment Options | Credit Card, Paypal |
| Protocols | OpenVPN, PPTP, L2TP |
| Servers | 5 VPN Servers |
| Traffic-Limit | No Limit |
| Price | from $ 5.99 |
| Best Use | Remote Access Unblocking Video Streaming Unblocking Websites |
| Encryption | SSL |
About GoTrusted VPN
GoTrusted is a Virtual Private Network provider, based in the United States, which was originally founded back in 2005. The company markets itself primarily as an internet security solution, especially for small businesses and people who travel around a lot, whilst also emphasising the importance of online privacy.
Unlike many other VPN services, which advertise their wide range of features and add ons, GoTrusted targets users with basic requirements, such as those who regularly use public WiFi hotspots, and focuses on being user-friendly and offering simple, good performance.
How it Works
After signing up for the service, customers must install the client software on their desired device(s) and log in. From there, users are given access to a new IP address and their internet traffic is encrypted, ensuring that they are both anonymous and safe from threats like hacking or snooping.

Because the company target their product towards small businesses, a focus is placed on ensuring that people can use public WiFi services without making themselves vulnerable and ensuring that unrestricted internet access is available, even if people travel to areas where strong internet censorship exists.
GoTrusted servers are currently located in the United States, Europe and Asia. However, unlike some other VPN services, GoTrusted is not particularly useful for those who wish to make use of P2P file transfers or Torrents, as activity is monitored.
GoTrusted VPN Servers around the world:
Germany, Great Britain, Hong Kong, Ireland, Japan, Singapore, USA
Pricing
As far as pricing, GoTrusted offers one of the most simple strategies on the VPN market, with one main service available for a set price of $5.99 per month. This is a competitive price and a refreshingly straight forward pricing system, ensuring there is no confusion.
Moreover, a free seven day trial is available, for those who wish to try the product before purchasing it. However, it is worth noting that payment details are requested in order to trial the service and if users do not cancel before the end of the trial period, they will be automatically billed.
Privacy and Security
The company do not offer a huge amount of information about their security and privacy methods online, although the software supports L2TP, PPTP and OpenVPN protocols, which is a strong point when compared to some VPN providers. Where possible, 256-bit encryption is also used, which is again a plus point.
One potential downside is the fact that the service automatically uses the strongest encryption method possible, depending on the user's location. While this is fine for those with basic requirements, experienced VPN users may be put off by the automatic nature of this process, which does not offer the transparency of other services.
Unfortunately, the company do opt to keep fairly detailed records of customers' use of their service and their privacy policy even makes reference to sharing this information with third parties, albeit not without express consent. This is a major negative for the service, as many VPN providers do not keep logs at all.
Support
Although it does not provide 24 hour help, the customer support offered by GoTrusted is generally very good, with multiple methods of contact available, including direct contact through an online chat service. The online chat system is active during US office hours, with a ticket-based help service available outside of those times.
The company strive to answer any queries within a day. In addition, the website features useful information and a FAQ section, which should provide answers to the most common issues. Unfortunately, telephone support is not currently available.
Pros and Cons
Pro GoTrusted:
+ Professional layout and easy to use, even for complete newcomers to Virtual Private Networks.
+ Generally fast speeds on all of the supported devices and operating systems.
+ Professional website, which offers a decent amount of customer support options.
+ Reasonably priced when compared to many competitors, with a free trial option available.
Contra GoTrusted:
– The company keep detailed logs of all user data, meaning that privacy and use are both limited.
– Compatibility is limited compared to other VPN providers on the market, with no support for Linux.
– Users need to provide payment details in order to access the seven day free trial.
– Lack of access to detailed settings and inability to change many settings will put off more advanced users.
Conclusion
GoTrusted market their product as a user-friendly internet security service, for individuals and small businesses to use on the go. With that in mind, the company are successful in delivering with their VPN service and it is suitable for the needs of most users; especially those who might not be especially tech savvy.
In terms of criticism, the main problem with the service is the lack of options and customisation, when compared to rivals. This may put off experienced VPN users, who like to be able to adjust settings to suit their needs.
Furthermore, the company's policy on keeping user data logs will put off those who wish for their activity to remain private and unrestricted.
Go to gotrusted.com