CryptoStorm VPN Review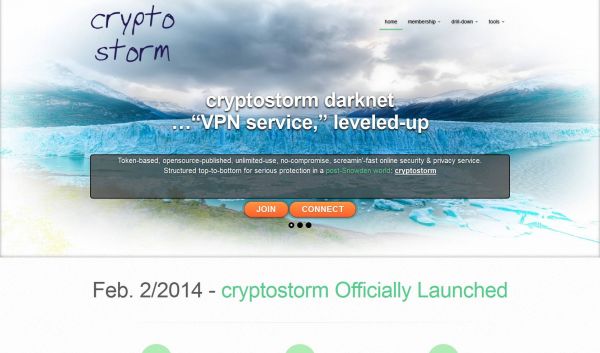 | | |
| --- | --- |
| Clients | Windows, Mac OS, Linux, Android |
| Company Location | Canada |
| Encryption | 256-bit AES |
| Filesharing | allowed |
| Logfiles | No Logfiles! |
| Money Back | No |
| Payment Options | Paypal, Credit Card, Debit Card, Bitcoin, Dogecoin, Zetacoin |
| Protocols | OpenVPN |
| Traffic-Limit | No Limit |
| Price | from $ 5.33 |
| Best Use | Remote Access Unblocking Video Streaming Unblocking Websites |
About the VPN service of Crypto Storm
CryptoStorm is a VPN service formed from the ashes of the now defunct CryptoCloud.com. Based in Quebec, Canada and launched in 2014, they have set out to revolutionise the VPN industry with a token-based authentication system and a 'seppuku privacy pledge', where they insist they will cease all operations before ever revealing any user information or data to authorities.
However, in the interest of full disclosure, there is a somewhat ugly side to the history of CryptoCloud. American entrepreneur, Douglas Spink, was heavily involved in the VPN service, before he was eventually convicted of drug smuggling and arrested for other offences related to bestiality. Despite receiving a lengthy jail sentence, Spink was released incredibly early.
As a result, some have speculated that he may have cooperated with the authorities, potentially putting CryptoCloud users at risk of a security breach. Although an anonymous spokesman for CryptoStorm has claimed Spink has no involvement in the current setup, the fact that CryptoStorm's staff have all chosen to remain anonymous casts doubt on that and some sources have suggested he is likely involved.
How it Works
Like other VPN services, CryptoStorm works by encrypting a user's internet connection, protecting it from threats like snooping or hacking. On top of that, users are allocated a new IP address, giving them anonymity while they browse the internet or transfer data. This can also be used to unblock geo-restricted content, or content which is blocked at ISP level.
CryptoStorm is unique in its approach to payment, decoupling payment from access to the service. This is achieved through a token system, with tokens granting users access to the service for a set amount of time. These tokens can be purchased from the VPN, or from third parties and can be traded or resold, adding an extra layer of anonymity to the entire process.
Pricing
The CryptoStorm pricing strategy is fairly simple, as there is one main package available, giving customers the same service. Customers can choose to commit to the service for different lengths of time, receiving a discount in price the longer they commit for.
At present, if paying via credit card, the service is available for a monthy fee of $8 CAD or a yearly fee of $64 CAD. Alternatively, CryptoStorm encourages the use of BitCoin and three month and six month signup options are available if paying via this method.
Moreover, BitCoin or cryptocurrency subscription is rewarded with a discount on the usual price. For instance, one year can be purchased for $56 CAD instead of the usual $64 CAD. So, if you won some bitcoin online, you can get a discount and pay anonymously.
Privacy and Security
CryptoStorm makes use of OpenVPN protocols, with 256-bit AES encryption. This is solid and secure encryption technology and compares favourably with some of the other providers, which offer less secure encryption methods as standard.
On paper, CryptoStorm have taken an incredibly strong approach to the topic of privacy, pledging to fight any legal requests for user data and to cease all operations before ever giving that information to authorities. They also claim to not keep logs of any user internet activity whatsoever.
Unfortunately, the company's history and its links with past criminal activity are an obvious security risk, which cannot be ignored.
Support
In terms of customer support, help is provided through multiple platforms, including email, an online forum and social media websites. In addition, helpful information can be found on the main company website and this will answer many queries.
At present, there is no form of instant communication, like telephone support or a live chat function, which is a downside when compared to other VPN providers on the market. That said, response times through the available methods are good.
Pros and Cons
Pro VPNTunnel:
+ Token-based authentication system adds an extra layer of anonymity and is potentially revolutionary.
+ Customers can use the service for P2P or BitTorrent downloads and no logs are kept by the company.
+ Excellent encryption technology and an especially strong privacy policy, including a 'seppuku pledge'.
Contra VPNTunnel:
– The history of the service and its predecessor is a legitimate cause for concern, for many reasons.
– Technical language used throughout the website and its documentation make it daunting for newcomers.
– At present, there are only a limited number of servers, in a reasonably small number of countries.
Conclusion
Giving CryptoStorm the benefit of any doubt regarding its history, it is an extremely solid VPN service, with a strong privacy policy and a revolutionary payment system, which adds an extra layer of anonymity for users. In terms of encryption techniques and speeds, the service rates highly in comparison to other providers.
However, the concerns regarding the service's history and its connections with Douglas Spink cannot be completely ignored and, while there is nothing concrete linking him to this current entity, users should be aware of allegations that he is and of the potential security threat that poses.
Go to cryptostorm.is